World news story
Thirtieth Session of the Human Rights Council, Geneva, 14 September to 2 October 2015
On the last day of the Human Rights Council, the UK delivers its statement on Somalia and looks forward to this resolution passing by consensus.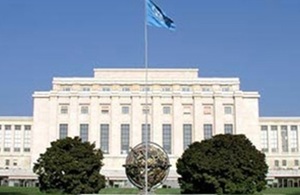 Mr President,
The UK is proud to present this resolution with Somalia, Turkey, Italy, the United States and Australia.
Human rights have a key role to play in the future prosperity and stability of Somalia, so it is right that this Council maintains its focus there. Decades of conflict have created real challenges to the full promotion and protection of human rights, many of which are referenced in the resolution before you.
And yet, against this backdrop of civil war, Somalia has made substantive progress to set itself on a path to peace and security. A federal government was appointed in 2012. AMISOM has pushed Al Shabaab from its traditional strongholds. In preparation for elections next year, legislation on the National Independent Electoral Commission was passed in February.
And the International Community has galvanised to support Somalia. The 'New Deal Compact' for 2014-2016, agreed following conferences hosted in London and Brussels, has brought pledges totalling 2.4 billion dollars – including 550 million dollars from the UK. And we recognise the invaluable contribution and sacrifice of those countries who have provided troops to fight Al Shabaab and help with stabilisation efforts.
But there is still a long way to travel, and Somalia will need more support from the international community to build strong institutions capable of protecting the rights of all its citizens. It is therefore appropriate that this resolution is presented under agenda item 10. We commend the Somali government's open approach to its human rights challenges and cooperation with this Council. We believe the UN's human rights system and the international community should respond to this with technical assistance and capacity building.
Mr President,
The resolution before you: firstly, sets out the key human rights challenges in Somalia; secondly, welcomes the many areas of progress by the Somali Government; thirdly, calls on Somalia to take a number of steps to further the protection of human rights, and on the international community to provide support to these efforts; and finally, to this end extends the mandate of the Independent Expert for a further year.
We are grateful for the support and constructive engagement during the negotiations by all states, in particular the Friends of Somalia and our cosponsors. We look forward to this resolution passing by consensus.
Thank you, Mr President
Published 2 October 2015