World news story
Thirsty work: maximising water resources in Northern China
Top UK water experts to work with Xi'an on two-day specialist seminar.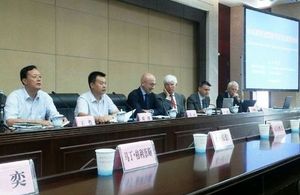 The British Embassy has announced that three of the UK's top water resource specialists have flown to Xi'an at the invitation of the Xi'an Water Resources Bureau to take part in a two day water resources seminar organized by the British Embassy's Regional Cities Network. The seminar was jointly hosted by the British Embassy and the Xi'an Water Resources Bureau and was funded by the Foreign & Commonwealth Office's Prosperity Fund. The programme included a seminar on maximizing water resources, site visits, and meetings with a number of key local government departments.
Led by Dr Martin Griffiths, senior environmental consultant who has developed water policies at the national and international level, the team of specialists flew to Xi'an on 13 August. Dr Griffiths was accompanied by Ben Piper and Simon Spooner, both Technical Directors at Atkins Water & Environment.
Xi'an is one of the major growth engines of inland China, but according to official figures, it only has about one quarter of the 1000m3 per capita water resources that is internationally recognised as the threshold required for sustainable development. This event continues the British Embassy's engagement on water across China, where it co-leads on Water and Energy for the China-Europe Water Platform, and where it will be partnering with the Ministry of Water Resources on urban water issues.
Mark Gooding, Minister Counsellor at the British Embassy said:
This is a fantastic opportunity for the UK to work with Xi'an on water resource management. Having polluted our lakes and rivers, we have now spent 50 years introducing cutting-edge policies and technologies to clean them up. At present, even under stringent EU guidelines, over 99.8% of the 2.8 million water-quality tests the UK carries out every year meet the highest water quality standards. The UK water industry has successfully delivered drinking water quality that is the highest it has ever been, river water quality that has improved dramatically and coastal bathing water quality that is getting better year on year.
Sanorita Li, Trade and Investment Manager at UK Trade & Investment in Beijing:
Water matters. Access to affordable and safe drinking water and adequate wastewater services are goals common to all countries. The UK is home to a water and wastewater industry that can help countries across the globe respond to the considerable challenges of water resource management.
Published 15 August 2014