Press release
THINK! you're never too good to be a better rider
Transport Minister Robert Goodwill, Chaz Davies and Alan Davies, launch the government's latest THINK! road safety campaign.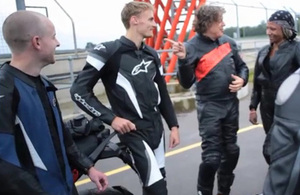 World superbike rider Chaz Davies and famous comedian, writer and author, Alan Davies, have today helped launch the government's latest THINK! road safety campaign. Aimed at motorcyclists, the campaign encourages riders to undertake further training to improve their safety on the road.
Despite racing bikes since 1995, former world champion Chaz Davies only took his road test this summer. Last month he completed further training to sharpen his skills on the road and show riders that no matter how much riding experience you have, you're never too good to learn something new.
Both Chaz Davies and Alan Davies were joined by 8 regular riders recruited through the campaign's THINK BIKER Facebook page and through the motorcycling magazine Motorcycle News (MCN). The group are filmed completing their further training course that covered key principles of advanced riding, including using a planned system of riding, positioning, speed and observation.
Chaz Davies said:
You really are never too good to be a better rider - it's as simple as that. I've been working for 15 years to try and be better on the track and that applies on the road as well.

There are so many more variables on the road and I think people can get a little bit over confident, but you are never too good. You never know what's around the corner.

The training really got me thinking. The instructors pre-empted every situation that I spotted a couple of seconds later. It really showed me the importance of being one step ahead and reading the road.
Transport Minister Robert Goodwill said:
With motorcyclists 55 times more likely than car drivers to be killed or seriously hurt on the road, it is clear that no rider is ever too good for the road. There is always more to learn – even if you are a professional rider.

I would encourage anyone who is a rider to get online and sign up for further training to help you stay safe.
The footage has been divided into a series of short films and will be available to view online via the THINK BIKER Facebook page and on YouTube and a digital partnership with MCN throughout September.
Riders can find out more about further training on the THINK! website and follow the campaign on Facebook by liking the THINK! BIKER page.
Roads media enquiries
Press enquiries 020 7944 3021
Out of hours 020 7944 4292
Switchboard 0300 330 3000
Published 12 September 2014