World news story
Think twice when leaving your passport in your car
Car break-ins are the third biggest cause of UK passport theft in the Canary Islands and 91% of victims are tourists.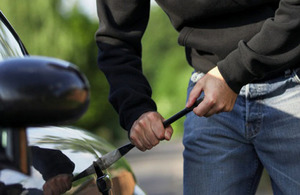 In a bid to drive down passport thefts, the British Consulates in Las Palmas & Tenerife have partnered with CICAR, one of the biggest car hire firms in the Canary Islands, to reduce theft from vehicles.
In the past 9 months, more than 450 British holidaymakers have lost their passports in the Canary Islands, with car crime accounting for around 1 in 11 of these cases.
From this autumn, CICAR customers will be greeted by warning signs in the company's customer service areas and receive tips for keeping their belongings safe along with their hire contract.
Being aware of the risk and taking a few simple steps to safeguard your valuables can reduce the likelihood of falling prey to thieves:
Don't leave your passport or other valuables in a parked car. Many holidaymakers hire cars to explore the hidden beaches or practice water sports in the Canary Islands. Thieves target parked vehicles at secluded beaches and tourist hotspots.

If you have to leave belongings in the car, ensure they are locked out of sight in the boot before you park.

Wherever possible, park in secure car parks in well-lit areas.
British Vice-Consul in Tenerife, Helen Keating said:
This initiative in the Canary Islands complements our continued work with local and airport authorities to drive down the number of stolen passports. We welcome our new partnership with CICAR and are sure this campaign will help many Brits avoid difficult and upsetting circumstances. We hope to see other car rental companies getting involved too.
Take measures to protect your passport and avoid losing out on precious holiday time and paying out £100 for an emergency replacement.
This project, which is part of a global Foreign Office campaign urging Britons to be #TravelAware when abroad, has been spearheaded in the Canary Islands by the British Vice-Consuls in Gran Canaria and Tenerife, Esther Martin and Helen Keating, and their respective consular teams. A similar initiative in Malaga last year resulted in an 18% reduction in British passport theft from cars.
Published 19 October 2016