Press release
Theresa Villiers urges community leaders to ensure a peaceful 12 July weekend
The Secretary of State met the PSNI Chief Constable Matt Baggott this afternoon to discuss the policing of 12 July Parades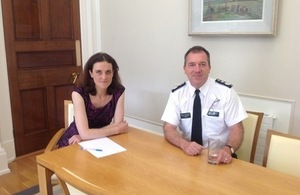 Following the meeting, the Secretary of State, Rt Hon Theresa Villiers MP said:
"The Chief Constable reiterated his confidence in the PSNI's ability to police the 12 July parades. All of us hope that the weekend will be peaceful, but the PSNI have rightly prepared for different scenarios by bringing in additional officers from GB.
"I urge community leaders on all sides to continue to work with each other and with the PSNI over the coming days to ensure that a peaceful Twelfth holiday weekend is enjoyed by everyone in Northern Ireland.
"I fully appreciate how strongly people across the community feel about parading. But it's hugely important that they continue talking to each other and that they abide by the rule of law.
"This is a time for responsible leadership. While I strongly support the right to peaceful protest, those who are calling people on to the streets at a time of heightened tension must be aware of the possible consequences of their actions and the potential risks to public safety that could result.
"I know there is anger in the loyalist community about the Parades Commission's determination for the 12 July parade in north Belfast. But the reality is that the Commission is the lawfully constituted authority and its determinations have the full force of law. "So I appeal to everyone involved in this weekend's parades to respect the rule of law.
"It would be tragic if the success of the G8, the launch of our economic package and signs that the Northern Ireland economy is beginning to heal were undermined by scenes of violence flashed across the world.
"Nothing would be more damaging as we strive to portray Northern Ireland as a great place to do business, and compete in the global race for investment and jobs."
Published 11 July 2013