News story
Theresa May makes statement in Parliament on Cumbria
In a statement to Parliament about the shootings in Cumbria, the Home Secretary said she wanted to send 'heartfelt condolences' to everybody touched by the attack on Wednesday.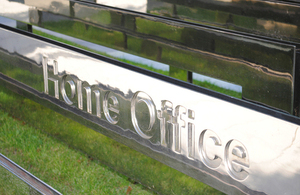 Theresa May in Cumbria Friday
On Friday the Home Secretary visited victims of the shooting in Cumbria with the Prime Minister. Find out more on Number 10's website.
The Home Secretary's statement to Parliament
Theresa May said, 'our thoughts and prayers are with the families and friends of those who were so senselessly killed and injured in the shootings'.
Read the Home Secretary's full statement.
She said that 12 people were killed in the attack, as well as the alleged gunman, Derrick Bird. She said that 11 people who were injured have been, or are being treated in hospitals in the area.
She said police are working to confirm the identities of those who died. Names will be released by Cumbria Constabulary as each formal identification is confirmed and after families are officially notified.
Family liaison officers worked through the night to help identify the dead and contact relatives.
Police fired no shots
She confirmed that throughout the incident police officers fired no shots, and that police believe Bird took his own life. She said police are processing 30 separate crime scenes, with more than 100 detectives working on the case.
'The investigation will look into Derrick Bird's history, his access to firearms, and the motivations for his actions,' she said.
Bird was a licensed firearms holder
She also confirmed that Derrick Bird was a licensed firearms holder.
'He held a shotgun license since 1995, and a firearms licence (for the .22 rifle) since 2007. I can now tell the House that the police have confirmed to me that his licences covered the firearms seized yesterday.'
We will remember the lives that were lost
She called for the police to be given time to conduct their investigation.
'Where there are lessons to be learned, we will learn them.  Where there are changes to be made, we will make them,' she said. 'But for now, let us wish the injured victims a speedy recovery, remember the 12 innocent lives that were taken, and pray for the families and friends they leave behind.'
Published 3 June 2010