Theresa May appointed Home Secretary
The new Home Secretary arrived at Home Office headquarters in Westminster today after the Queen approved her appointment.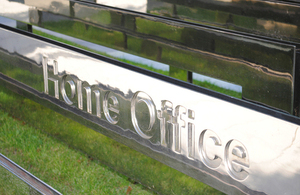 Ms May has been a member of Parliament for Maidenhead since May 1997. She lives in her constituency and is an active local campaigner.
When she arrived at the Home Office today, she said, 'I am glad to accept the role of Home Secretary. This is an important day in politics, and I'm happy to represent the new coalition government.'
She added, 'I'm looking forward to getting inside, meeting the staff and getting on with the job.'
Parliamentary background
A member of the shadow cabinet since 1999, she has held a number of positions including Shadow Secretary of State for Education and Employment (1999-2001), Shadow Secretary of State for the Family (2004-05) and Shadow Leader of the House of Commons (2005-09).
The newly appointed Home Secretary most recently held the position of Shadow Secretary of State for Work and Pensions and the Shadow Minister for Women.

Published 12 May 2010