The week on the Foreign Office Global Conversations blog
Tunisia, Libya, climate security and St David's Day were amongst the subjects discussed by Foreign Office bloggers this week.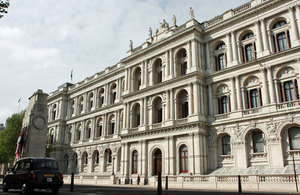 In Tunisia Ambassador Christopher O'Connor examined the prospects of elections in Tunisia noting that the 'first election after the Tunisian revolution will undoubtedly be a defining moment'.
Senior Human Rights advisor Bob Last discussed the special session of the Human Rights Council convened in response to events in Libya.
Ambassador to Hungary, Greg Dorey updated his blog with a report on the recent visit of UK Sports Minister Hugh Robertson to Hungary.
UK Ambassadors, Charles Lonsdale, Greg Dorey and Leigh Turner based in Armenia, Hungary and Ukraine focused their attention on the Welsh National Day St David's.
In Washington Ambassador Nigel Sheinwald blogged about 'what was a golden night for Britain" at the Oscars. In Romania Ambassador Martin Harris focused his blog on the Oscar winning film 'The Kings Speech' noting that "the film is about how we all as individuals can meet the challenges life presents us, with determination and with the help of our families and those closest to us."
A blog debut from the British Consul General in St Petersburg, Gareth Ward, examining a less well know Russian export, paper as he discovered on a recent visit to a paper mill.
Deputy Consul-General in New York, Dominic Meiklejohn hosted a guest video blog from Rear Admiral Neil Morisetti examining 'the potential threats climate change can pose to our national security'.
High Commissioner to Kenya, Rob Macaire hosted a guest blog post from Alistair Fernie, Head of DFID Kenya and Somalia about the UK's future aid commitment to Kenya.
These are just a selection of the blogs published on our Global Conversations blog site.
Published 4 March 2011