"The visit is an historic event in relations between Ireland and the United Kingdom"
Deputy Prime Minister and Minister for Foreign Affairs and Trade, Eamon Gilmore T.D. and the Rt. Hon William Hague MP, Secretary of State for Foreign & Commonwealth Affairs comment on the Queen's State visit to Ireland this week.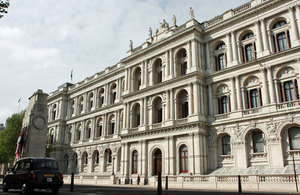 This week Her Majesty Queen Elizabeth II and His Royal Highness the Duke of Edinburgh will make a State Visit to Ireland.
The visit is an historic event in relations between Ireland and the United Kingdom - the first such visit since Irish Independence in 1921 changed political relations on these islands.
It is fitting that it is taking place before the end of the term in office of the President of Ireland, Mary McAleese. The President, the first to have been born in Northern Ireland, has made "building bridges" the theme of her Presidency. While the two Heads of State have already met each other on several occasions, this visit is special - a reflection of the transformed bilateral relationship.
It will celebrate the depth and warmth of our relations. Over 6 million people in the UK are Irish or have an Irish parent or grandparent while around 3 million visitors from Britain come to Ireland every year.
British and Irish history is inescapably entwined. For too long, however, relations between our nations were marked by conflict and division, by mistrust and suspicion. But today we are proud to be friends and neighbours, partners and equals.
The Northern Ireland Peace Process, founded on the principle of mutual respect, has been critical, both to the partnership we enjoy today and to the process of reconciliation between our peoples.
That work has been underway for over a quarter of a century. It continues today. Reconciliation is painstaking work. The Belfast Agreement, reached on Good Friday 1998, which included the devolution of power to Northern Ireland and the establishment of frameworks for relations on the island of Ireland and between Britain and Ireland, marked a turning point.
Last week we saw yet another historic milestone reached quietly as elections to the Northern Ireland Assembly produced a strong mandate from the people of Northern Ireland to continue to consolidate peace and stability.
This shared history is fundamental to our relationship. We should not gloss over the past. During the visit, in recognition of this shared history, the Queen will pay tribute to the foundation of the Irish State at the Garden of Remembrance and attend a ceremony to commemorate the Irish who died in the First World War. These elements speak to our shared history.
For Ireland and the United Kingdom, the visit marks not only a milestone in a peace process but a beginning too. Only now can we begin to realise the full potential inherent in relations between our states.
We have so much in common already. Commercial and cultural links are stronger than ever. Trade and tourism between our two countries is an important contributor to both our economies. Every week around £1 billion in trade takes place between our two countries, while approximately three million visitors travel each year from the UK to Ireland and a similar number of Irish visited the UK. The Queen herself will enjoy some of Ireland's attractions with visits to the famous Book of Kells at Trinity College and to the Rock of Cashel in County Tipperary.
We work closely together on some of the great challenges of our time. The economic and financial turmoil of the past few years have demonstrated the importance of decisive government action to improve prosperity and promote growth and jobs: an agenda that we are determined to push at the European Union level.
Meanwhile, we share a commitment to promoting international development and conflict resolution. Our extraordinary progress in establishing peace in Northern Ireland, notwithstanding the actions of a tiny minority, is a positive message for those engaged in the patient work of peace building in so many regions of the world today.
Economic, political and cultural ties already connect us more closely than at any time in our recent history. This visit is a stepping stone to an even closer future relationship of cooperation, trust and friendship between the peoples of our islands.
Published 17 May 2011