World news story
The United Kingdom and Cuba continue fostering their commercial relations
The first UK market introduction workshop organised by the UK Department of International Trade (DIT) Office in Havana was held last week at the Melia Cohiba Hotel.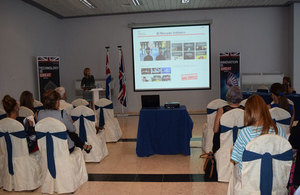 The International Trade and Investment office, based within the British Embassy in Havana, is part of the UK Department for International Trade (DIT), and they convened last week for the first British market introduction workshop to promote the UK's potential as an investment country in Cuba and highlight areas of potential interest on the island to increase trade between the two nations. The event was attended by Lourdes Morell, Europe Specialist of the Chamber of Commerce and Nélida Guerra, Deputy Director of Commercial Policy with Europe of the Ministry of Foreign Trade and Foreign Investment. Also present were Cuban companies who received a first-hand overview of the United Kingdom as well as the potential of British products and services in the Cuban market.
In relation to this event the Director of DIT Cuba, Alina Niebla, highlighted:
"We are very pleased to have been able to hold this workshop. Although we know that there are still some barriers for British investment in Cuba, we would like to place emphasis on its great potential in the island for the quality of its products, innovative and creative character, its reliability in terms of delivery capacity and logistics, the integrity of companies and adaptive capacity to cultural differences and language barriers. Among other factors, Cuba is a very attractive market because of the opportunities it offers in key sectors such as energy, industry, biotechnology and finance.
Our goals this year are to double UK exports to Cuba and maintain that growth rate. Likewise, we look forward to continue strengthening trade relations with Cuba by making the most of our mutual experience. "
Síguenos en twitter: @UKinCuba
Síguenos en Facebook: British Embassy Havana (UK in Cuba)
Published 19 May 2017