World news story
The UK Supports the Kosovo Security Force with Medical Training
UK medical instructors train 27 personnel from the KSF Rapid Reaction Brigade (RRB) in immediate care training.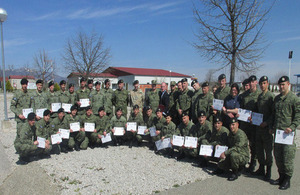 From 30th of March until 10th of April, Headquarters of the KSF RRB in Istog hosted 'First Person on Scene (Intermediate Award)' medical training in which representatives from each Platoon of the RRB participated.
The Award is an internationally recognised qualification in immediate care and the training will assist in the longer term aspiration to develop a self-sustaining medical capability within the RRB.
Lieutenant Colonel David Jones, Adviser to COM KSF at this occasion said:
The training package was extremely successful and I believe some of the best medical training that the KSF has received to date".
Colonel Xhevahir Geci, Commander RRB said:
I am very impressed with the quality and experience of the UK instructors. The training was really well received by the students, who gained a lot of knowledge and practical skills from the course".
Published 17 April 2015