World news story
The UK Prime Minister's Trade Envoy visits the OPTs
Baroness Morris, the UK Trade Envoy to the OPTs visits and calls for the reopening of the Jerusalem Arab Chamber of Commerce.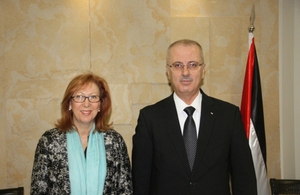 Baroness Morris of Bolton, the UK Prime Minister's Trade Envoy to Jordan, Kuwait & the Palestinian Territories visited the OPTs last week. She met Prime Minister Rami Al Hamdallah, visited Gaza and met the Jerusalem Arab Chamber of Commerce.
Baroness Morris discussed with Prime Minister Hamdallah the urgent need to reconstruct Gaza. She informed him of the latest UK contribution of £3m to UNRWA to meet the need for shelter in Gaza to fulfil the UK's pledge at the Cairo Conference. On behalf of the British Government, she also offered the Prime Minister condolences on the death of Minister Ziad Abu Ayn the day before.
In Gaza, Baroness Morris met Minister for Labour Mamoun Abu Shahla, representatives of UNRWA and visited Gazan businesses. She saw first-hand how the UK is helping businesses in Gaza through support to the Palestinian Market Development Programme (PDMP). She visited Keypal Plastics, a company given support through the programme to help them get back to business again following the recent conflict in Gaza.
In Jerusalem, the Baroness met members of the Jerusalem Arab Chamber of Commerce, who briefed her on the closure of the Chamber and the challenges of doing business.
Following her visit, Baroness Morris said:
I was profoundly shocked to see the deterioration of the situation on the ground in Gaza since my last visit in 2011. The UK is fulfilling its commitment to provide the urgent assistance needed for the reconstruction of Gaza. But we need to see lasting change in Gaza: we urge the parties to return to negotiations to find a durable solution to the conflict.

The private sector also has a vital role to play in the reconstruction of Gaza and in creating a vibrant economy in East Jerusalem and the West Bank. The UK government has been working closely with businesses in the OPTs, providing grants and advice to enable them to recover and create new jobs.

I was also pleased to meet the Jerusalem Arab Chamber of Commerce during my visit. The UK will continue to call for the reopening of the Chamber and other Palestinian institutions that have been closed.
Published 23 December 2014