News story
The UK prepares to advance gender equality at the 58th Session of the UN Commission on the Status of Women
UK Government and civil society unite in preparations to defend the rights of women and girls globally.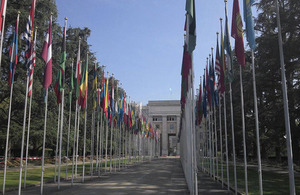 The UN Commission on the Status of Women (CSW) is the key global policy forum for the advancement of women. It meets every year at the UN Headquarters in New York to debate and agree global action to improve women's lives. The next CSW meeting takes place next year from 10-21 March and its focus is on challenges and achievements in the implementation of the Millennium Development Goals (MDGs). The UK is taking a leading role in working to ensure that CSW58 culminates in a common set of global standards to protect women and girls following the success of CSW57 earlier this year.
In preparation for the forthcoming CSW, the Government Equalities Office (GEO) hosted a well-attended event on 28 October to bring together NGOs with Government in preparation for the forthcoming session. Both Helen Grant, Minister for Women and Equalities, and Lynne Featherstone, Parliamentary Under Secretary of State for International Development, attended. They paid tribute to the invaluable work of NGOs in helping to achieve a successful outcome at CSW this year and affirmed their commitment to resist any moves to water down previously agreed language which could weaken our attempts to progress gender equality.
GEO will be meeting regularly with a core group of UK NGO representatives from the UK NGO CSW Alliance to strategise on how UK Government and civil society can mobilise support for a progressive gender equality narrative.
In addition, GEO has set up a Cross Government CSW58 Planning Group which includes the Department for International Development, the Foreign and Commonwealth Office, Department for Work and Pensions and the Department for Business Innovation and Skills. This Group will be developing an influencing strategy; a key tool which seeks to ensure that the UK's approach to advancing women and girls' rights is shared by other countries. If you would like to be kept up to date with CSW58 related news and activities, please join our mailing list by contacting us at: womensengagement@geo.gsi.gov.uk
Published 18 November 2013