World news story
The UK organises Global Summit to End Sexual Violence in Conflict
The Global Summit to End Sexual Violence in Conflict will take place in London from 10 – 13 June 2014.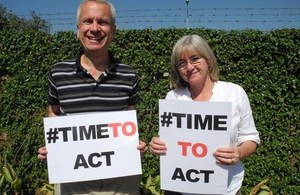 Foreign Secretary William Hague will co-chair the summit with Angelina Jolie, Special Envoy for the UN High Commissioner for Refugees.
This Summit will welcome over 100 countries and over 900 experts, NGOs, survivors, faith leaders, and international organisations from across the world that share our commitment to end sexual violence in conflict. It will be the biggest global meeting on this issue ever convened. Zambia is being represented at the summit by the Hon Edgar Lungu, MP – Minister for Defence
Speaking about the Summit British High Commissioner James Thornton said:
"Rape in war zones does enormous damage. It has all the terrible effects of rape elsewhere. In addition it makes it more difficult for communities later to reconcile with their adversaries. And women who have been raped find it even more difficult later to summon the emotional resources to climb out of poverty. And yet it is seldom that the perpetrators of sexual violence in conflict are brought to justice"
James Thornton called on the media, civil society and all the people of Zambia to join the campaign.
And speaking against sexual violence The Second Lady Dr Charlotte Scott said:
"It is time to act and end the vice"
Mr Thornton also commended Zambia for the role it continues to play in peace building in the region and throughout Africa.
Further information
• The Global Summit will be the biggest ever to be held on the topic of sexual violence in conflict
• Zambia will be represented by the Hon Edgar Lungu MP; Minister for Defence
• We encourage people to join the campaign by taking photos of themselves holding a #TimeToAct poster and sharing the photos on our social media sites.
• Follow us @#TimeToAct, Live blog and webcast, #SexualViolence, #Conflict
• Alternatively you can visit our Facebook page and share the posts
Further information can be found on the Summit website. You can also contact the British High Commission on +260 211 423200 or follow us on Facebook and Twitter: @UKinZambia.
Published 10 June 2014