World news story
The UK Israel Tech Hub celebrates two years of success
Leading figures in the local business and tech community to celebrate the second anniversary of the UK Israel Tech Hub.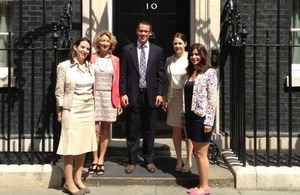 Hundreds of leading figures in the local business and tech community including Avi Hasson, Yossi Vardi and Eitan Wertheimer will join Matthew Gould, the British Ambassador to Israel, for a reception on Tuesday, 8 October to celebrate the second anniversary of the UK Israel Tech Hub.
Since its inception, the UK Israel Tech Hub has helped economic growth and supported technological innovation in both the UK and Israel by partnering British and Israeli companies. The Hub's unique model aims to create partnerships in which British companies help Israeli innovation go global, and Israeli innovation gives British companies a global competitive edge.
Key successes achieved in the last two years include:
Working with major UK corporations such as GlaxoSmithKline, Arup and ShopDirect to develop strategic innovation partnerships in Israel in biopharmaceuticals, water technology and e-commerce
Helping Israeli tech companies to expand globally in partnership with the UK, bringing tens of Israeli companies to Britain on business scoping delegations since 2011
Facilitating hundreds of introductions between British and Israeli companies which have already resulted in several significant commercial partnerships, with dozens more in negotiation
Building engagement and interaction between stakeholders by delivering 10 high level business delegations, and dozens of conferences, workshops and networking events involving over 3,000 business people to date in the UK and Israel
Increasing awareness of the UK-Israel tech opportunity among policy and business leaders via launch of the UK Israel Tech Council co-chaired by Israel's Chief Scientist Avi Hasson and UK's Minister of Universities and Science David Willetts.
In celebration of the partnership, Joanna Shields, CEO of Tech City UK and UK Business Ambassador for the Digital Industries has travelled to Israel in order to highlight technological cooperation between the two countries and explore further opportunities to create business partnerships.
During her week-long visit, organised by the Hub and UK Trade and Investment (UKTI), Joanna Shields will be meeting a series of tech businesses with high potential for partnership with the UK, promoting UK opportunities to the local tech community and reviewing the Hub's activities that focus in sectors where the UK and Israel have complementary strengths, including digital, biomed, cleantech, Arabic internet, government IT and fintech.
Commenting on the anniversary, Matthew Gould, the British Ambassador to Israel said: "I am hugely proud of the progress we have made building a UK – Israel tech partnership. Over the last two years, entrepreneurs, executives, and decision makers have travelled between the UK and Israel and discovered tremendous business opportunities. As a result of the Hub's work, we're seeing exciting partnerships helping British companies succeed globally by integrating Israeli innovation, and Israeli tech going global by partnering with the UK."
Joanna Shields said: "The Hub was created two years ago to build a UK-Israel partnership in technology and innovation, and since then, this unique collaboration has driven many business delegations between the UK and Israel, implemented conferences, workshops and partnering events and raised awareness of business opportunities in both countries. Technology stands out as a bright spot in the British economy, growing at over 8% per annum and forecast to continue during the next five years as increasing numbers of businesses harness digital innovation to find new solutions to old problems. We have already welcomed a great number of innovative Israeli companies to our country and hope to see many more realising their potential and growing in the UK."
Published 7 October 2013