World news story
The UK is ready to do more business with Cuba and to become a strong partner for the island for the long term
This year the UK had 19 companies participating at Havana International Trade Fair including exhibitors and visitors.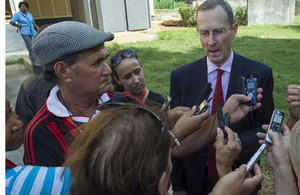 UK-Cuba bilateral relationship is going from strength to strength. The British Foreign Secretary visited Havana in April this year and made it clear that Britain is ready to do even more business with Cuba and be a strong and dependable partner for the long term.
The Lord Mayor of London also visited Cuba this year to explore links between UK's financial services sector, and how Cuba could work more with the City of London - the world's most important financial centre. Senior Cuban bankers had the opportunity to see that by themselves when they visited the City in September. The Institute of Banking and Finance delivered top level banking development courses two weeks ago in Havana.
The UK has an exciting range of similar assistance projects in preparation – in financial services and banking, in renewable energy, and in higher education cooperation. All critical areas to help create the right conditions for strong investment into Cuba, build relationships between our institutions, and increase trade between the two countries.
In reference to the new potential for UK-Cuba relations, Her Majesty's Ambassador in Havana Antony Stokes stated:
"We want to do more with Cuba, and we are fully confident it is Cuba's interests to have Britain as a partner. The reason is that we are the 5th largest economy in the world and the fastest growing economy in the G7 group of nations in 2015. We're the same outward-looking, globally minded, flexible and dynamic country we always have been.
We are therefore, and will continue to be, a strong, dependable and worthwhile partner for Cuba. We're interested in long term, mutually beneficial business relationships."
Published 9 November 2016