The UK and Singapore: a close and historic relationship
Foreign Secretary William Hague met the Deputy Prime Minister of Singapore on 30 July.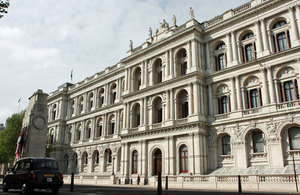 Speaking after the meeting the Foreign Secretary said:
"It was a pleasure to meet Singapore's Deputy Prime Minister Teo during his visit to London for the Olympic Games - to recall together the moment seven years ago in Singapore when our bid won. I wish Singapore's athletes the best of luck during the Games.
"Our two countries have a close and historic relationship, which I can hope we can strengthen still further and I am delighted that the Duke and Duchess of Cambridge will visit Singapore in September. I personally very much enjoyed my visit to Singapore in April, and was impressed by the breadth of our relationship across areas such as trade and investment, climate change and international security. Today we had serious discussions concerning the deteriorating situation in Syria, the nuclear programme in Iran, as well as regional security issues."
Published 30 July 2012