News story
'The Two Worlds of Charlie F' UK tour
A play performed by military personnel and veterans about a soldier's view of service, injury and recovery has embarked on a new UK tour.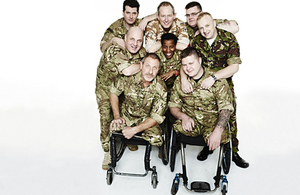 'The Two Worlds of Charlie F' has returned for a new tour of the UK following its growing success and a 2-week season in Canada.
The play moves from the war in Afghanistan, through the dream world of morphine-induced hallucinations, to the physiotherapy rooms of Headley Court. It explores the consequences of injury, both physical and psychological, and its effects on others as soldiers fight to win the new battle for survival at home.
Performed by serving and medically-discharged military personnel that make up Bravo 22 Company, as well as professional actors, the play uses humour and humanity to give a personal and moving look at the effects of war on individual combatants.
The play also gives the public an insight into what life is like not just for wounded, injured and sick (WIS) personnel, but also their families too.
Two members of Bravo 22 Company, Royal Marine Lance Corporal Cassidy Little and Lance Corporal Ashley Young, have been helped by the Defence Recovery Capability. This is a MOD-led initiative designed to deliver co-ordinated support to WIS personnel in partnership with Help for Heroes and the Royal British Legion.
In addition to this, Bravo 22 Company uses theatre to aid the recovery of WIS personnel and veterans and provide unique work placements as well as supporting the integration of service personnel into the community.
Patron of 'The Two Worlds of Charlie F', actor Ray Winstone, said:
I am so proud and overwhelmed. It is the most moving play I've seen for a long, long time. The public should get behind this and be part of something unforgettable.
'The Two Worlds of Charlie F' was the idea of Alice Driver, the executive producer of this new tour. Her initial idea was to provide a unique work placement for serving WIS military personnel within a theatre company.
It was the first time that MOD had allowed a theatre company access to their wounded soldiers and, following workshops and interviews with WIS service personnel who had served in Afghanistan, the idea for the play came about.
Bravo 22 Company was created through a partnership between the Theatre Royal Haymarket Masterclass Trust, the Royal British Legion and the Defence Recovery Capability. The play was written by the award-winning poet and playwright Owen Sheers.
After being performed on stage at the Theatre Royal Haymarket in London's West End, the play then went on a short UK tour, and won the Amnesty International Freedom of Expression Award in 2012.
To find out if the play is visiting a theatre near you and to book tickets visit The Two Worlds of Charlie F website.
Published 19 March 2014