The Turks and Caicos Islands: Good Governance
The leader of the People's Democratic Movement, Doug Parnell, paid an introductory call on Henry Bellingham MP, Minister for the Overseas Territories.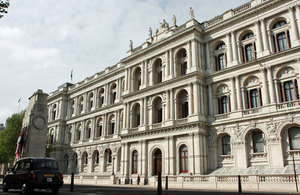 In welcoming Mr Parnell, the Minister spoke of the Government's wish to build a new dynamic relationship with the Overseas Territories and to see the Turks and Caicos Islands (TCI) on a sustainable and stable footing.
Mr Parnell shared with the Minister his assessment of the current situation in the Territory, covering a range of issues including the economy, investment promotion and elections.
Speaking after the meeting, Henry Bellingham said: "Mr Parnell and I enjoyed a brief but frank exchange on issues of concern to TCI. I look forward to visiting the Turks and Caicos Islands in the future".
Search the news archive
Published 1 July 2010