The town that honours the fallen
As the Queen bestowed Royal status on Wootton Bassett, the town's mayor Mary Champion explained why the caring locals turn out to honour fallen heroes.
If ever a town deserved a medal it's Wootton Bassett, said Jacqui Thompson, the visibly-moved widow of Senior Aircraftman Gary Thompson who was tragically killed in Afghanistan in April 2008.
This simple tribute from a bereaved loving wife and mum speaks volumes about the comfort that can come from caring strangers:
I personally feel I owe the people of Wootton Bassett a lifetime of heartfelt gratitude for the deep respect they showed my Gary and the rest of our incredibly courageous brave young men and women," said Jacqui.
The people of Wootton Bassett are truly remarkable. I feel that the town will always have a place in my heart. The community have made it deeply symbolic the way they welcome our heroes home.
Dignity, respect and compassion may be old-fashioned values but the local residents of the Wiltshire town of Wootton Bassett are proud to uphold them by saluting the men and women who make the ultimate sacrifice for their country.
It is a commitment that will soon no longer be carried out by the loyal community of Wootton Bassett, because the closure of RAF Lyneham later this year means that repatriations will switch back, as was always planned, to RAF Brize Norton in Oxfordshire. But it is a commitment that has been rightly recognised.
Wootton Bassett will be the first town in more than a century to be granted 'Royal' status in recognition of the way it honours fallen troops. In March, Prime Minister David Cameron told MPs that the Queen had agreed to the tribute 'as an enduring symbol of the nation's gratitude to the people of that town'.
Mr Cameron said the 'deeply moving and dignified demonstrations of respect' from locals had cemented a deep bond between the public and troops. The tribute is appreciated by Wootton Bassett's mayor, Mary Champion:
This is a great honour for our community as the repatriations move away from Wootton Bassett," she said. "While we have never sought recognition for our simple act of respect, I am certain that this will serve to reinforce the pride and gratitude we feel for the members of our Armed Forces, who are always in our thoughts.
Mary is proud to be the elected face of such a caring community. It grew from a trickle but it wasn't until 2007 that it dawned upon Mary, a then-councillor, of a growing trend for many of its 12,000 locals to turn out.
Every time a coffin passes through, butchers, bakers, housewives and old soldiers stand shoulder to shoulder as the cortege slowly passes. As the death toll in Afghanistan rises, sadly, it has become an all too familiar sight:
There are a lot of theories about how it began," mused Mary. "Different people have their own recollections but I think that people just stood as they went by. Then they realised it was coming from RAF Lyneham and it started like that. We've always been a caring community.
She thinks its geographical proximity may be a factor, just two miles [3.2km] up the road from RAF Lyneham where the locals head for their shopping. It can't be easy to have a parade of coffins passing through regularly, even for Wootton Bassett's stoical locals:
It isn't depressing but just imagine, we stand there for half-an-hour and that is just a little bit," said Mary. "But they have paid the ultimate sacrifice so we owe it to them.
If the media presence is a pain, then Mary shrugs that, if anything, the media has gradually calmed down:
At first, there were always cameras clicking, but they are very much more respectful now.
Recently, Mary wrote a moving speech to describe the events surrounding a repatriation ceremony titled 'How I dread these words'. Whenever she turns on her TV and hears the news that a soldier has been killed in Afghanistan, her heart goes out to the bereaved.
Mary wrote that while repatriation arrangements are made by MOD, life chugs on for the community. In fact, repatriation day starts early in town with police and sniffer dogs carrying out routine checks.
Many police officers give their time freely. Meanwhile, the Cross Keys pub offers a refuge for grieving loved ones where kind-hearted landlady Kirsty is a shoulder to cry on.
At 1100hrs, a C-17 rumbles overhead and locals pause, knowing that the plane approaching RAF Lyneham is carrying the fallen. There, tearful families receive loved ones with full military pomp at the chapel of rest.
Veterans always arrive early, in time to chat to old comrades and reflect on their own lost pals, many buried in distant lands. As mayor, Mary doesn't shy away from the media glare because she knows that the wave of support is appreciated by troops in faraway lands.
Mary arrives early at the war memorial so she can spend time with the bereaved. Often she is wordless, knowing that nothing can console their pain. But many, she says, draw comfort from the fact that their loved ones have done their duty.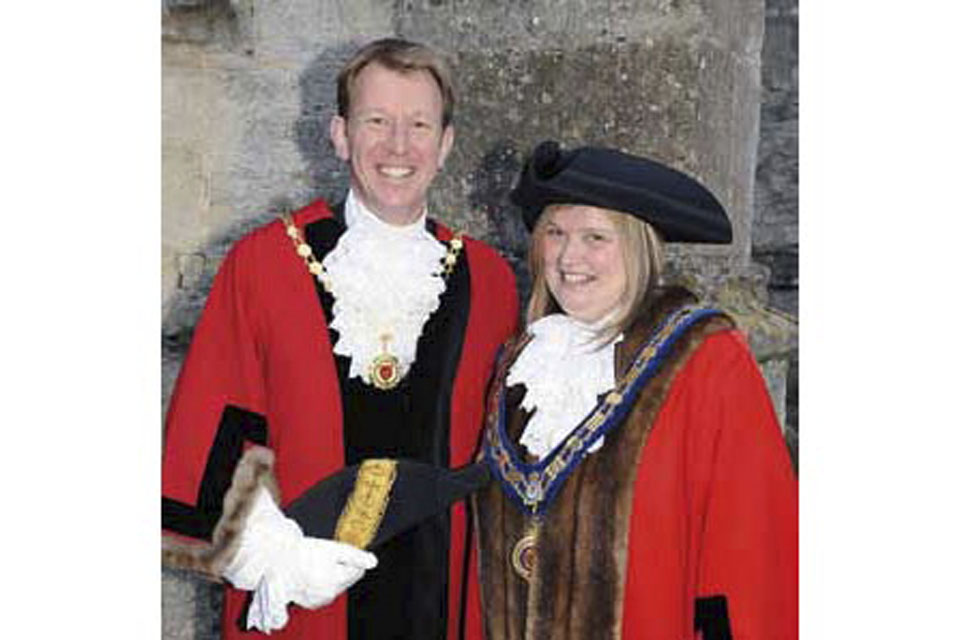 As the bell tolls, the town falls silent as the cortege arrives. Mary quietly slips away leaving the families deep in thought.
In her speech, Mary wrote:
The funeral director leads the cortege from church to the war memorial where the procession halts to observe a moment's silence. It is so profound that all you can hear is raw emotion of grief.
Flowers are placed lovingly on the roof of the hearses. Occasionally the wind catches petals and they are blown to the ground. I feel so sad that something so lovingly placed only stays for a few moments; it almost symbolises the short precious lives of the young soldiers.
Ask if the sombre rituals have irrevocably changed the atmosphere and Mary shakes her head:
No. Life goes on normally. It has to.
Mary, whose son is a former Royal Marine, firmly believes that her beloved community could teach the rest of Britain a thing or two about respect. Ask how many processions Wootton Bassett has seen and Mary protests that she has never counted, saying:
Each time is as important as the last and the next one to come.
In March, the MOD announced that later this year repatriation ceremonies will move to RAF Brize Norton.
There is no doubt though that Wootton Bassett's contribution will live on in the hearts of a grateful nation as a shining example of a town that cares.
How does Mary feel to see Wootton Bassett on the map for something so vital?
Well, I'd rather it wasn't happening," she said. "But I'm very proud of my town. We just show we're behind the lads and lasses, that whatever our feelings about the war, it doesn't matter, they are our boys and we support them.
Published 6 May 2011