News story
The taxpayers' alliance campaign: Letter from Edward Davey
Secretary of State Edward Davey's letter of response to the Taxpayers' Alliance 'Stop the Energy Swindle' campaign article, The Daily Mail, 11 July 2013.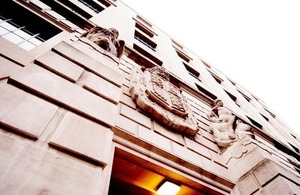 Dear Mr Sinclair
The taxpayers' alliance campaign
I feel compelled to write following your article in last Thursday's Daily Mail about the Taxpayers' Alliance 'Stop the Energy Swindle' campaign.
Put plainly, your calculations are wrong and there is no good foundation to your claim that by 2020 green charges and tax will account for £620 of average energy bills.
Let me be clear, I do not doubt the difficulty many households face in paying for their gas and electricity, and I share a concern to cushion the public from rising prices with improved energy efficiency and greater competition in the market.
But it is disingenuous to seek to pin the blame on government policies using inflated assessments of their impacts while ignoring the main driver for price increases – rising global fossil fuel prices. It's the global gas price, not green subsidies, that has primarily been pushing up energy bills. 60% of the increase in household energy bills between 2010 and 2012 was caused by this.
DECC's economists have reviewed the Daily Mail article and I would like to highlight three fundamental, glaring errors.
Firstly, your claim that electricity bills will rise by 29% between now and 2020 as a result of our policies and tax is based on simplistic and flawed calculations which don't fully take account of how policies will impact electricity bills. As a result it overestimates the impact of policies on bills.
You have apparently based your 29% on analysis by Liberum Capital, but Liberum do not appear to have undertaken the detailed modelling of the electricity market required to accurately estimate the generation mix and impact on prices and bills. Rather, it simply calculates the total additional net costs in 2020 (low carbon generation support, network costs and capacity payments, netting off saved fuel costs) and compares it to current sector revenue to calculate a percentage increase in 'total power cost' of 29% (£8.9billion) between 2012 and 2020.
In the process, there is some overestimation of the impacts of our policies. For example, Liberum appear to overestimate the increase in the Levy Control Framework cap between 2012 and 2020 by some £2.4billion (the level of the cap on low carbon generation support already in place in 2012/13); it also underestimates the scale of fuel saving by assuming fossil fuel prices remain the same, not increasing as most commentators expect.
Even if we accepted the estimate of a net increase in total power costs of £8.9billion, your online calculator's assumption that households will therefore see a 29% increase in bills due to our policies is also plain wrong.
My Department's own robust analysis shows that in fact 17% of the increase in electricity unit prices (not total power costs) between 2013 and 2020 will be attributable to our policies, and, as I explain below, this will not filter through into comparable rises in household electricity bills.
Secondly, you incorrectly assume your 29% policy and tax impact increase on electricity will also apply to gas. There is no basis for this. In fact the policy impact on gas prices is currently much lower than electricity. It accounts for just 5% of the gas retail price now, and this is not currently expected to increase through to 2020.
The net result is that you more than double the estimated additional policy and tax impact on gas and electricity prices, from DECC's robust assessment of a flat impact on gas prices and 17% increase on electricity prices, to your fictitious 29% on both fuels.
Thirdly, you ignore the substantial countervailing impact of our energy efficiency policies on the total amount paid by householders for both gas and electricity.
Although the twin pressure of rising global fossil fuel prices and the need to renew our ageing infrastructure are likely to mean higher bills, our energy efficiency policies are designed to cushion the full effect of this on household bills.
Looking at our policies holistically – including those designed to improve energy efficiency and help the most vulnerable in our society –they are already on average more than offsetting the costs of clean energy investment. By 2020 household energy bills are expected on average to be £166 lower than they would be if we were doing nothing.
To conclude, there is no "swindle". My Department has gone to deliberate lengths to be transparent on this important issue. We publish an annual, holistic and evidenced assessment of the impacts of energy and climate change policies on prices and bills.
And this is no "vanity project". Few things are more important to the future economic and environmental wellbeing of our nation than diversifying our energy mix away from excessive reliance on imported gas. Investing in home grown alternatives is the only sure fire way of insulating our economy and bill payers from price volatility associated with this.
It's also drawing massive inward investment into our economy, as evidenced by the opening last week by the Prime Minister of the London Array – the largest offshore windfarm in the world.
There is well-evidenced and publicly available analysis available on our website (www.gov.uk/policy-impacts-on-prices-and-bills) that will help you avoid these mistakes in future. DECC's economist would be happy to brief you in person if you wish.
Edward Davey Secretary of State for Energy and Climate Change
Published 14 July 2013