"The task is to get on with creating an open, democratic and inclusive Libya"
Foreign Secretary William Hague discussed the situation in Libya ahead of the Friends of Libya meeting at the UN General Assembly on 20 September.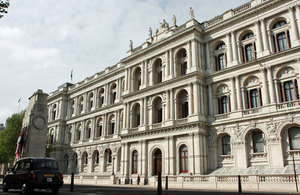 Speaking in New York today ahead of the Friends of Libya meeting the Foreign Secretary said that the international community would make clear is ongoing support for the National Transitional Council (NTC) and the people of Libya. He went on to note that:
"The task, of course, is to get on with creating an open, democratic, inclusive Libya. We will urge them to do that and we'll continue to give them strong support in doing so. They've done a very good job so far as everyone has seen on their television screens".
Asked about NTC actions and allegations of human rights abuses the Foreign Secretary said:
"The Chairman of the NTC, Mr Jalil, who himself was a judge, is very strong on upholding the rule of law, on protecting human rights. I think in the main the NTC have done a very good job at trying to do that. Of course in a very difficult situation that is hard to control. But of course we will raise with them the need to reinforce that, to make sure that there aren't acts of vengeance, that law is respected, that justice is done where it is appropriate, but in an orderly and proper way. And I know that's what they want. They won't need much reminding of that, but we will of course remind them".
On Qadhafi's most recent message and NATO action he said:
"The NATO action will last as long as it is necessary and it remains the case that in certain parts of Libya forces loyal to the old regime, to the Qadhafi regime, still do threaten the civilian population. So the NATO action will continue as long as is necessary. Qadhafi does issue what I've described before as these delusion statements, in this case calling on other African Presidents to intervene, to send troops, to send arms, thinking that the NATO action will stop. Well it's not stopping and those countries are not sending assistance to him. It is time he and his followers recognised that they have lost the struggle in Libya. There's a new Government, that Government is here at the United Nations being welcomed by the rest of the world and it's time for those still resisting them to lay down their arms".
Reflecting on his visit to Libya last week, the Foreign Secretary also made clear that there was a lot of affection for NTC Chairman Jalil among the Libyan people and "a great deal of respect here in the international community for the way he has chaired the NTC, obviously a body that includes many different views and opinions and political preferences united by their opposition to Qadhafi. But he's chaired and led that very, very well so far and he can lead Libya in to a free and democratic future. So we'll keep backing him up".
Published 20 September 2011