Press release
UK Government welcomes the Stormont House Agreement
Theresa Villiers welcomes the historic Agreement reached with Northern Ireland's political leaders on resolving key outstanding issues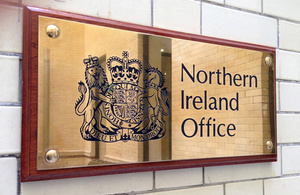 After 11 weeks of talks at Stormont, an Agreement on key issues has been put to the Northern Ireland parties. They all responded positively and will now put it to their party structures for endorsement.
Welcoming the Agreement, the Secretary of State, Rt Hon Theresa Villiers MP, said:
This is a reasonable and balanced agreement that opens the way to a more prosperous, stable and secured future for Northern Ireland. It responds to the wishes of the great majority of people in Northern Ireland, who clearly want their politicians to find an agreed way forward. I pay tribute to all those involved, who have shown real leadership and imagination.
We have had well over 100 hours of formal talks in this process, and a great deal more informal negotiation.
The parties have worked extremely hard, and responsibly, in seeking an agreed way forward, despite the strong feelings the issues under consideration sometimes give rise to. The Irish Government have worked alongside us and the parties, respecting the 3-stranded approach, in the most positive and constructive way. The US Government, and in particular Senator Hart and Consul Greg Burton, have provided very helpful support and advice. My own colleagues in Government, especially the PM and Chancellor, have engaged closely, and offered a quite exceptional financial settlement, recognising the seriousness of the issues at stake.
When it is endorsed, the Agreement, and the accompanying very generous financial arrangements, open the way for the Executive to put its finances back onto a stable footing. Without that, there would have been a continuing threat to political stability and public services.
The Executive will be able to implement the Welfare Bill currently before the Assembly, financing its own adaptations of the new arrangements through the Block Grant.
There are new agreed arrangements on parades.
The agreement includes an entirely new and comprehensive approach to dealing with the past, which will serve victims better and open the road to deeper eventual reconciliation. The UK Government will contribute substantially to the cost.
There are provisions that will help the institutions work better, and further implement the existing Agreements.
Putting into effect what is set out in the Agreement today will be hard work. We will work closely with the parties, and with the Irish Government, to do that promptly.
And we will help Northern Ireland focus on the challenges of the future. We will put legislation to Parliament as soon as possible after the Christmas break to devolve Corporation Tax. We will do all we can to support the creation of a shared future, where today's financial package makes a major contribution.
This is a historic agreement, giving us an agreed approach to some of the most difficult issues left over from Northern Ireland's past. It offers us a new start, and a far more hopeful future. But it will need continued hard work to ensure it fulfils its promise.For our part, we shall do all we can to see that that happens.
Published 23 December 2014