The State Visit - Day Three
The diary for HM Queen Elizabeth and HRH Prince Philip today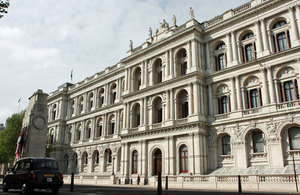 Irish National Stud, Co. Kildare: HM The Queen will meet representatives of the Irish National Stud and students from the Racing Academy and Centre fopr Education (RACE), Irish Farriery School, Stud Management Course as well as the trainers of the Irish-trained 2011 Cheltenham Festival winners.
The Stud's stallions, Invincible Spirit, Verglas and Amadeus Wolf will be on show and Her Majesty will meet sculpture Anthony Scott and unveil one of his statues.
The Miinister for Agriculture, Food and Marine, Mr Simon Coveney TD and the Minister for Health Mr James Reilly TD will be present.
Established in 1946, the Irish National Stud combines an active role in the development and promotion of Irish bloodstock with its role as one of the country's major tourist attractions. In excess of 40% of the EU output of thoroughbreds and 11% of the total worldwide are produced in Ireland.
**Gaisce - The President's Award: ** A reception for members of Gaisce, the President's Award will take place at Farmleigh House. The reception will be attended by HRH The Duke of Edinburgh and the Minister for Children and Youth Affairs, Ms Frances Fitzgerald TD.
The term "gaisce" is from the Irish language and can be translated as "achievement". The Award was established by a trust deed under the patronage of the President of Ireland in 1985 and is part of The Duke of Edinburgh's Award International Association.
**Convention Centre, Dublin: **To celebrate this historic State Visit to Ireland, HE Julian King, British Ambassador to Ireland will host a return event on behalf of Her Majesty and His Royal Highness. Compered by Gay Byrne, some of the acts include Mary Byrne, Westlife, The Chieftains, Eimear Quinn and Riverdance. During the evening there will be a fashion show of established and up-and-coming British and Irish designers, including designs from John Rocha, Louise Kennedy, Michael Leong, Victoria Beckham and M&S.
The Convention Centre has been recognised as the first carbon-neutral convention centre.
See some photographs of the State Visit to-date (c) Maxwell Photography
The State Visit to Ireland by HM Queen Elizabeth II
HM Queen Elizabeth II meets President of Ireland, Mary McAleese during her State Visit to Ireland
Search the news archive
Published 19 May 2011