World news story
Extractive Industries Transparency Initiative conference in Kazakhstan
This was published under the 2010 to 2015 Conservative and Liberal Democrat coalition government
Ann Herrigan, Second Secretary Regional Energy Policy delivered a speech at the annual EITI conference in Kazakhstan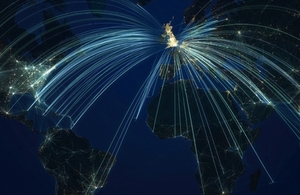 Dear Chairman,
Ladies and Gentlemen,
I am very pleased to speak today on behalf of the British Embassy.
The British Embassy has been supporting EITI projects in Kazakhstan for the last 6 years.
In 2011 we funded a regional initiative on transparency and accountability standards which covered Kazakhstan, Azerbaijan and Turkmenistan.
In 2013 the Embassy supported another project on implementation of standards required after the validation process for Kazakhstan had been completed. Our project work supported efforts on - disclosure of spending on social projects by extractive industries; building the capacity of civil society in the regions; and facilitating a platform for dialogue between local authorities, business and NGOs.
In September this year we were involved in the production of a video about implementation of EITI in Kazakhstan. This video which you have just watched highlights the efforts that have been made to implement the exacting EITI standards in Kazakhstan. In doing so it helped to raise awareness of EITI standards in Kazakhstan.
The British Embassy was involved in the dialogue between the government of Kazakhstan and the diplomatic community throughout the validation process. We have continued to engage with the government since the end of that process.
We welcome the government's strong political support for EITI. Achieving EITI validation demonstrates the willingness of the government to act responsibly when allocating revenues coming from extractive industries. It also shows that principles of good governance and effective cooperation with civil society are in place.
EITI validation also has a positive impact on the investment climate in the country. Kazakhstan is already one of the top foreign investment destinations in the CIS region. We are confident that EITI membership will only increase Kazakhstan's attractiveness for foreign investors.
So, I would like to congratulate the government of Kazakhstan for their achievements in this area and I wish the government success in introducing the new EITI standards.
Thank you!
Document information
Published: 5 December 2014