World news story
The Rt Hon Hugo Swire MP, Minister for Asia Pacific at the Foreign & Commonwealth Office, will visit New Zealand from 18-21 February 2016
The Minister will call on New Zealand's leaders during his visit.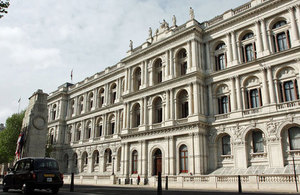 The British High Commission is delighted to announce that the Rt Hon Hugo Swire MP, Minister of State for the Asia Pacific in the Foreign & Commonwealth Office, will visit New Zealand from 18-21 February 2016.
During his visit, the Minister is scheduled to call on Foreign Affairs Minister Murray McCully, Defence Minister Gerry Brownlee, Climate Change Minister Paula Bennett, Minister for Arts, and the Deputy Leader of the Opposition, Annette King.
The Minister will also be speaking with members of the Metro Mayors network during their annual meeting, and with New Zealand business leaders at a Trans Tasman Business Circle event.
Speaking in advance of the visit, HE Jonathan Sinclair, the British High Commissioner to New Zealand, said:
I'm delighted that Hugo Swire is visiting New Zealand on a long planned visit. This is the Minister's first official >visit and he is looking forward to speaking with one of our closest friends and partners on a range of important >foreign policy issues including the UN Security Council, countering Daesh, Zika and the Commonwealth.
The Minister is also in New Zealand to support the Royal Edinburgh Military Tattoo and to promote tourism and business between the UK and New Zealand.
During the visit the Minister will also be travelling to Christchurch to pay his respects to the Mayor and people of Christchurch ahead of the 5th anniversary commemorations of the Canterbury earthquakes.
The UK is New Zealand's largest trading partner – including goods and services - in the EU. Our military forces work hand in glove, and our domestic policy dialogue is unrivalled. Our people-to-people links in fields such as science, art and technology are deep and broad. And we share a love of sport: following the Rugby and Cricket World Cups last year, the Welsh Rugby Tour in June 2016 and the Lyons Tour in 2017 will be more exciting sporting events to remember."
For more information about the minister's portfolio, please visit this page
Document information
Published: 15 February 2016