News story
The Rt Hon David Lidington MP, Minister for Europe, visits Helsinki
Britain's Minister of State for Europe, David Lidington, visited Helsinki 19 to 20 March, the first senior UK ministerial visit to Finland in 2013.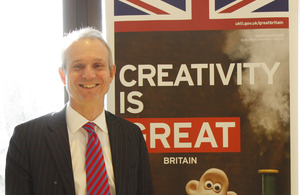 Mr Lidington's visit focused on Finnish-UK relations, Europe and prosperity - creating the right conditions for economic growth and creating jobs for our citizens.
Mr Lidington had a full schedule including meetings with Finnish Foreign Minister Erkki Tuomioja and his counterpart in Finland, Europe Minister Alexander Stubb. Mr Lidington also met the Minister of Economic Affairs, Jan Vapaavuori, and members of the Grand Committee of the Eduskunta (parliament).
Mr Lidington joined the UK Trade & Investment Helsinki Team to boost UK/Finnish trade. He opened a seminar at the British Ambassador's Residence to showcase to Finnish business and entrepreneurs the investment potential of London's Alternative International Market (AIM), part of the London Stock Exchange.
Mr Lidington delivered a speech in the Europpasali on the debate on the future of Europe. Lidington speech on the debate on the future of Europe (MS Word Document, 38.2KB) Finland and the UK share the goal of an effective, flexible and competitive single European market able to succeed in the global economic race. The Prime Minister, David Cameron, recently set out his vision for a reformed EU able to meet the challenges, which has stimulated much debate in the UK and Europe.
The Minister rounded of his visit with an interview with the leading Finnish daily newspaper Helsingin Sanomat in which he set out the British government's views on Europe. The British Embassy's social media outlets followed the Minister's visit Facebook page Twitter account UKinFinland with the hashtag #UKEU
Published 20 March 2013