News story
The Rt Hon Chris Huhne MP visits the Isle of Wight
03 August 2011 The Rt Hon Chris Huhne MP has visited the Isle of Wight to understand the Island's integrated approach to the green economy …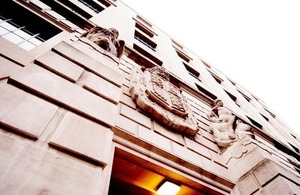 03 August 2011
The Rt Hon Chris Huhne MP has visited the Isle of Wight to understand the Island's integrated approach to the green economy and sustainability, meeting with wind turbine manufacturers Vestas Wind Systems, local MPs and green businesses.
The Island is playing a key role in UK offshore wind development and supporting low carbon and renewable living.
Accompanied by champion round-the-world sailor Dame Ellen MacArthur and Vestas CEO Ditlev Engel, the Secretary of State started the visit with Vesta's new blade technology and Research & Development facility in Newport. The plant is capable of designing and manufacturing wind turbine prototypes, and testing some of the largest wind turbine blades in the World.
Speaking to Vestas workers, the Secretary of State said:
The Secretary of State went on to take part in a round table discussion with local Councillors, MPs and businesses regarding the Isle of Wight Ecoisland project, a Community led initiative backed by local and global business.
Speaking after the visit, Cllr David Pugh, Leader of the Council said:
Ecoisland is the hub of a £300m roll out of renewable energy technology designed to establish the Island as the first truly sustainable region in Britain by integrating a government initiatives including
In addition, the Ecoisland Partnership has also secured a mix of privarte partner funding to give the Isle of Wight economic, energy, food and transport security for the future.
Other visits included family run business AJ Wells, which designs and manufactures wood burning stoves used for domestic heating, and South Boats, builders of offshore wind farm support vessels who received funding from DECC under Call 3 of the ETF Offshore Wind Demonstration scheme.
---
---
Published 3 August 2011