The Rt Hon Chris Huhne MP visits China
7-10 November 2010 The Secretary of State for Energy and Climate Change, The Rt Hon Chris Huhne MP, visited China as part of the UK-China Summit…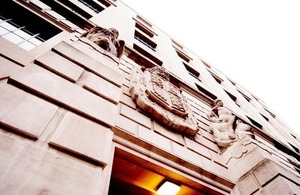 7-10 November 2010
The Secretary of State for Energy and Climate Change, The Rt Hon Chris Huhne MP, visited China as part of the UK-China Summit delegation from 7-10 November, to discuss international climate change and share ideas ahead of next month's Cancun climate meeting.
The four-day summit presented a timely opportunity to step up engagement with China on energy security and encourage greater bilateral green trade and investment as Chinese leaders make final preparations for China's strategic Five Year Plan from 2011-2015.
The Secretary of State held a series of bilateral meetings with Chinese ministers, energy company executives and senior policy advisers, and encouraged China to work with the UK on a range of issues including energy security, sustainable economic growth, carbon trading, CCS, MRV and taking effective climate action.
He also launched the UK/China Energy Dialogue, creating a formal framework to enhance policy exchange, business opportunities and technology co-operation.
Speaking to G8+5 parliamentarians at a Chinese National People's Congress - GLOBE conference in Tianjin, The Rt Hon Chris Huhne MP said:
"On energy technology, energy investment and action on climate change - there are real opportunities for the UK and China to do more together.
"Already, we have a close partnership. We work together on more than 30 projects, from financing to emissions management.
"Our job now is to take this co-operation further. On technology, research, planning and finance, there are opportunities for genuine bilateral working."
He added:
"The opportunities for each side are clear. And the desire for closer engagement comes right from the very top."
During the Prime Minister's programme he emphasised his support for the low-carbon agenda during the visit by meeting with young campaigners encouraging people to decrease their carbon footprint and presenting a rod from the award-winning Dandelion UK Pavilion at Shanghai World Expo containing seeds from the Millennium Seed Bank.
Published 7 November 2010