News story
The Rt Hon Chris Huhne MP opens UK's first Carbon Capture plant
30 November 2011 UK carbon capture and storage technology took a major step forward as Energy Secretary The Rt Hon Chris Huhne MP launched …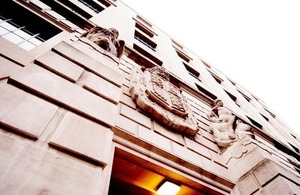 30 November 2011
UK carbon capture and storage technology took a major step forward as Energy Secretary The Rt Hon Chris Huhne MP launched a flagship test programme in Yorkshire today.
The project - worth more than £20million - is a partnership between industry partners Scottish and Southern Energy (SSE), Doosan Power Systems and Vattenfall and is supported by DECC, the Technology Strategy Board and Northern Way.
Innovative new technology will capture the equivalent of up 100 tonnes of carbon emissions a day from SSE's Ferrybridge coal-fired power station.
Launching the CCPilot 100+ project, The Rt Hon Chris Huhne MP, Secretary of State for Energy and Climate Change said:
"This flagship test programme at Ferrybridge represents an important milestone in the UK's plans to develop CCS and provides a critical bridge to meeting our long term aim of cost competitive CCS deployment by the 2020s.
"This is the first operating carbon capture plant attached to a power station at this scale in the UK and has benefited from more than £6 million in public money. This investment will be invaluable to the wider commercial scale deployment of CCS by reducing uncertainty, driving down costs and developing the UK supply chain and skills."
Iain Gray, Chief Executive of the Technology Strategy Board, said:
"The Technology Strategy Board is delighted to provide support for this pilot project. It represents a major step towards the demonstration and deployment of carbon capture and storage in the UK and emphasises the vital role that innovation is playing in bringing the technology closer to commercialisation."
The project is part a £125 million Government-led CCS research and development programme which will run between 2011 and 2015. Over 20 British based companies have supplied components to the Ferrybridge carbon capture plant.
---
Notes for Editors
CCPilot100+ project will extract up to 100 tCO2 / day from a power station flue gas stream equivalent to 5MW electrical power.

Around 90% of CO2 is removed from the flue gas

Over 20 British based suppliers have provided parts to the CCPilot100+ project at Ferrybridge. These include:
A J Metal Products Ltd, West Midlands (air receiver)
Carpenter and Paterson Ltd, Powys (pipe supports)
Francis Brown Ltd, Teeside (steel ducts)
Howden, Renfrew (booster fan)
Pipework Systems & Installation Ltd, Dunfermline (sampling systems and pipework)
Sinclair Stainless Fabrications Ltd, Norfolk (columns)
Silotank, Northern Ireland (GRP tanks)
The UK Government funds CCS research, development and innovation through its main energy R&D partners: DECC, the Research Councils, the Technology Strategy Board , and the Energy Technologies Institute (ETI).

DECC has allocated up to £20m, subject to value for money assessments, as part of the £125m Programme, and expects to launch a competition for funding early 2012.

Current spending period includes financial year (FY) 2011/12 until FY2014/15

For more information about the Government's policy on Carbon Capture and Storage please see the Carbon Capture and Storage (CCS) web pages.
Published 30 November 2011