News story
The Rt Hon Chris Huhne MP letter to Lord Lawson and Lord Turnbull
November 2011 Re: the Global Warming Policy Foundation paper The Really Inconvenient Truth or "It Ain't Necessarily so". Further to my letter…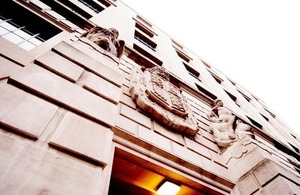 November 2011
Re: the Global Warming Policy Foundation paper The Really Inconvenient Truth or "It Ain't Necessarily so".
Further to my letter to Lord Lawson of August this year, I have now had chance to consider in greater detail your Global Warming Policy Foundation paper The Really Inconvenient Truth or "It Ain't Necessarily so". As this paper criticises the climate science evidence base, the IPCC as well as DECC policies which are based on this evidence, I would like to take this opportunity to respond to each of these points.
Let me say straight away that my assessment of your paper leads me to believe that you have been misinformed and that your conclusions are poorly supported by the underlying science evidence.
I strongly refute the accusation that Government ignores valid scientific uncertainties in its policy making. We fully acknowledge that there is uncertainty. Indeed, my Department has a number of in-house climate science experts in its Strategy and Evidence Group, who both understand the complex science behind climate change and work closely with the academic community and policy makers.
However, scientific uncertainty is not an excuse for inaction. I am convinced by the balance of the scientific evidence that is now available. It seems to me to be overwhelmingly on the side of the reality of global warming and the risk of future dangerous climate change and damaging impacts across the world. Furthermore, as I see it, the evidence for man's influence on the climate gets stronger every year. Indeed, at the time of your paper, the 'Garnaut Review' in Australia[1] reconfirmed that the evidence for a human influence on climate was stronger than ever and was "beyond reasonable doubt". I make no apologies that our policies are firmly based on such evidence. Indeed it would be perverse to ignore this well attested and thoroughly reviewed body of evidence.
The basic physics tells us (and climate modelling confirms) that temperature increases because of increases in CO2 and other greenhouse gases in the atmosphere and that these cause water vapour to increase, causing a further temperature rise. This positive feedback effect increases the overall impact of increasing greenhouse gases. Without any water vapour feedback, doubling CO2 in the atmosphere would cause a global average temperature increase of around 1.2oC. Increasing water vapour is understood by the vast majority of experts to increase this significantly, to around 3oC. Clearly there is some uncertainty as to the exact value of climate sensitivity - but can we afford to take such a huge risk that greenhouse gas emissions will only cause a degree of warming as one or two people still claim? I think not.
Climate change is likely lead to serious consequences for societies across the world and likely to have major negative impacts on the natural world. As well as rising temperatures, rainfall patterns are likely to change radically in the coming decades and extreme events are likely to increase in scale and frequency. Yes, there may be some positive impacts in coming decades in some places but, as you are no doubt aware, the military, energy, insurance and finance companies, and other business leaders are already mainstreaming the risks of future climate change impacts into their planning decisions. Similarly, Government would be negligent if it did not also take a risk-based approach to policy development.
You are very critical of the IPCC in your paper. As a matter of fact, and contrary to what you say, the preparation of an IPCC Assessment report involves the contributions from thousands of scientists and other experts worldwide in a two-fold review process overseen by independent editors, and the scrutiny and challenge from Governments from around the world who rigorously question the conclusions.
There were, of course, a small number of errors identified in the IPCC Fourth Assessment Report. However, after four years of scrutiny, only three errors[2] were identified in the interpretations of grey literature in 750+ pages of the Working Group II Report and the large majority of the report referenced fully peer-reviewed science. Furthermore, not a single error was found in the whole of the Working Group I Report which assessed the underlying physical science of climate change and did not reference any grey literature. Following, the independent InterAcademy Council review, the IPCC agreed a suite of changes last spring to strengthen its procedures and governance in preparation for its 2014 Fifth Assessment Report.
Furthermore, it is not true to say that UK climate change policy relies on a single source of evidence - the IPCC. The IPCC and other international assessments are very important but the evidence base is peer-reviewed work from many, many research groups in the UK and around the world. Also, detailed scientific and technical analyses in the Committee on Climate Change's reports also inform UK Government policy.
Finally, you wrongly assert that the UK is taking unilateral action and argue that the UK should not act when the rest of the world does not act. You may know that the UK's carbon budgets and targets are reflecting our targets under the EU Effort Share and EU Emissions Trading Scheme. That means that until 2020 we are not acting unilaterally and we are not stepping out of line with the EU and all its Member States. This obviously is important as the EU Member States are important trading partners and this therefore provides a level playing field for UK business and industry.
In addition, progress is being made incrementally in the international climate change negotiations. In Cancun (December 2010) the UNFCCC adopted a package of decisions including the 2 degree goal, mitigation pledges from around 100 developed and developing countries, establishment of a Green Climate Fund and new institutions and mechanisms to deliver progress on forestry, adaptation and technology.
The Climate Change Act shows UK leadership, making us a credible negotiator within the UNFCCC, and provides a compelling example to other countries, some of whom are taking forward their own climate legislation based on the UK's experience. For example, Ireland introduced draft legislation loosely based on the UK model, as did Hungary. The new Danish Government is now working with us to introduce their own Climate Change Act including five year carbon budgets following the UK's example. The Bulgarian Government is currently planning climate change legislation based on the UK's experience. Very recently a cross-party commission reporting to both houses of the Spanish parliament has backed a report calling on the next government to adopt legally-binding legislation on climate change and UK-style carbon budgets.
Importantly, following the Copenhagen agreement more than 100 countries are now actually engaged in taking action domestically. This includes important countries such as the US, China, India and Brazil. Finally, as you will know, earlier this month Australia 'put a price on carbon' as the Senate passed its new Clean Energy Future package, with a Climate Change Authority to come, modelled on the UK's Committee on Climate Change, as well as a Clean Energy Finance Corporation, similar to our Green Investment Bank.
In conclusion, the scientific case for action is robust. We would be failing in our duties to pretend otherwise and we must with other countries around the world take the actions necessary to protect our planet from significant climate change for today's and future generations.
The Rt Hon Chris Huhne MP
---
[1]Garnaut R. Climate Change Review - Update 2011. Page 2. 31 May 2011.
[2]The most serious of these errors misquoted grey literature on the projected date for the melting of Himalayan glaciers.
Published 30 November 2011