News story
The Rt Hon Chris Huhne MP article in the Northern Echo
World Environment Day It's been twenty years since the first World Environment Day dedicated to climate change. Back then, Britain didn't …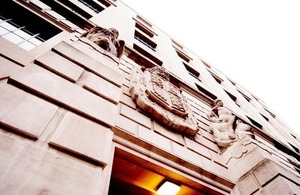 World Environment Day
It's been twenty years since the first World Environment Day dedicated to climate change.
Back then, Britain didn't have a single windfarm. The idea that the way we heated our homes and powered our cars could be threatening our way of life - and that the Government should do something about it - didn't catch on until much later.
At the Department of Energy & Climate Change, we're doing everything we can to reduce our greenhouse gas emissions and cut carbon out of the economy. From international negotiations to home insulation, we're working to put Britain on a cleaner, greener path.
We have three main priorities:
First, we have to keep the lights on - delivering secure, clean, affordable energy.
Over the coming decades we have to rebuild our ageing energy infrastructure, reducing our dependence on imports and our vulnerability to oil price shocks while keeping energy costs down.
The financial challenge is huge: we need £200 billion by 2020. Government can't provide that kind of money; but we can make the UK more attractive for investment. That's why we're reforming the electricity market - to encourage secure, green electricity.
We're also supporting low-carbon and renewable energy directly. We're putting £860m into the Renewable Heat Incentive and £1 billion into the world's first commercial-scale carbon capture and storage power plant. And we're also continuing feed-in tariffs for wind, solar and micro-hydro, to encourage small-scale renewables.
Our second priority is to support consumers and encourage energy efficiency.
Making our homes and businesses more energy efficient can unlock carbon savings - and keep people warmer for less. That's why we introduced the Energy Bill, which contains our flagship policy, the Green Deal.
It's a new programme to radically improve the energy efficiency of British properties. Energy saving packages worth thousands of pounds will be installed in millions of homes and businesses, right across the country.
We're also looking at how we can get people to engage with active energy saving. Together with Ofgem, we have published a prospectus for the delivery of electricity and gas smart metering, which will help consumers to use energy more efficiently.
Our third priority is to do everything we can to avoid dangerous climate change.
At the UN climate change conference in Durban later this year, we'll be working toward a new treaty to replace the Kyoto Protocol. Back home, we've set up the Capital Markets Climate Initiative to get private finance involved in tackling climate change in developing countries - and the Green Investment Bank to boost investment in low-carbon technology.
We're also looking to show leadership on emissions. In Europe, we're arguing for the EU's emissions reduction target to be raised to 30 per cent by 2020, putting us at the heart in the global green economy.
The rationale for action is clear: and it's not just about climate change. There are real opportunities here. Green growth can help get the UK economy back on track.
Globally, the low-carbon sector is worth over £3 trillion; our share of the market tops £100 billion. There are over 900,000 green jobs here in the UK. There's no reason we can't break through the million mark by the end of this Parliament.
We're doing what we can to help. In the Spending Review, we secured £200 million for low-carbon technologies - including £60 million for port manufacturing infrastructure to bring offshore wind manufacturing to the UK.
There are already promising signs. Last year, British Gas announced its plan to 'go early' on the Green Deal, investing £30 million and creating 3,700 new jobs. As the Green Deal kicks in, it will bring a real economic boost, driving growth in manufacturing and supply chains across the country. We think every household in the country could benefit from the Green Deal. With over 1.15 million homes in the North East, the opportunities for local suppliers and installers are strong.
But green growth goes further than that. Britain is blessed not just with powerful tide, wave and wind resources; but also with scientific, business and engineering expertise.
The North East is no exception.
The New and Renewable Energy Centre in Blyth is at the forefront of low-carbon research. JDR Cable Systems, based in Hartlepool, specialises in subsea cables; together with CTC Marine from Darlington, they connected and installed the Wave Hub, the world-leading tidal power test facility.
With a quarter of the world's wave and tidal energy research happening here in the UK, these businesses are well placed to take advantage of green growth.
From Middlesbrough to County Durham, firms are researching, designing, building and installing the technologies that will power the future here in the North East - and the world.
No wonder a Swedish delegation visited Teesside to tap in to this growing renewable technology supply chain. No wonder UK is now home to the world's biggest windfarm; nor that it's the only country to have legally-binding carbon targets beyond 2020.
We've come a long way in twenty years. Let's make sure that when World Environment Day 2031 rolls around, the next generation can say the same.
Published 4 June 2011