World news story
The Royal Edinburgh Military Tattoo heads to Melbourne
The British High Commissioner lends GREAT campaign support to iconic Scottish spectacular for its five performance run in Melbourne this month.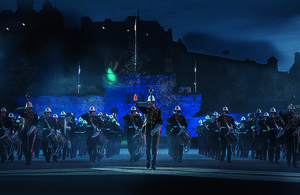 The British High Commissioner Menna Rawlings is pleased to announce the British government's official association with The Royal Edinburgh Military Tattoo's Australian tour, as part of the GREAT Britain campaign.
The Tattoo's new show 'A Fanfare For The Future' will premiere at Etihad stadium in Melbourne on 12 February with five shows before heading to Wellington, New Zealand. The two-stop international tour will present the Tattoo to a live audience of 265,000 and a TV audience of over 2 million.
The Tattoo's 2016 tour gives Australian and New Zealand audiences the rare opportunity to enjoy this amazing spectacle, one of Britain's great cultural experiences, live. It will feature 1,200 participants – 22 acts – and include awe-inspiring performances from traditional Scottish favourites, precision drill teams, pipers, fiddlers, singers and dancers joined by military and cultural groups from around the world, including Australia and New Zealand.
British High Commissioner Menna Rawlings said:
The Tattoo is steeped in military tradition and a reminder of the historic relationship between Australia and the United Kingdom. And as a 'Fanfare for the Future', it is also a celebration of our modern partnership, of innovation and of creativity, as we strengthen ties across government, business and the arts.
The Royal Edinburgh Military Tattoo attracts 220,000 visitors to Edinburgh each year of which 8% come from Australia and New Zealand. It also has a global television audience of over 100 million and generates £100 million for the Scottish economy each year.
The Tattoo is also a huge draw to the world-renowned Edinburgh Festival, the largest arts festival of its kind in the world, which takes place in August every year. For those who miss out on the Tattoo's Australian tour, August is the perfect time to visit Scotland to see the Tattoo in its home town and experience the unforgettable Edinburgh Festival. With an increased number of direct flights from Australia into Scotland, visiting Britain has never been easier.
Notes
The Royal Edinburgh Military Tattoo is just one event in a 2016 calendar of British creative and cultural activity in the UK and overseas supported by the GREAT Britain campaign. In Australia this includes:
For further information contact:
Annie Galea
Head of Communication
UK Trade & Investment
02 8247 2274
annie.galea@mobile.ukti.gov.uk
Published 2 February 2016