News story
The role of government lawyers: recent changes, and a look ahead
Jonathan Jones, Treasury Solicitor and Head of the Government Legal Service, addresses the Whitehall and Industry Group
This news article was withdrawn on
An out of date news item. TSol is now the Government Legal Department.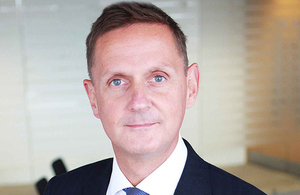 On 28 January 2015, Jonathan Jones spoke about the recent changes affecting government lawyers and the future. It is a challenging and interesting time for the civil service. The Government Legal Service (GLS) conducts work on an immense scale, handling around 30,000 cases between 2013 and 2014. Within TSol we have a range of people working within Litigation, Employment and Commercial Groups, and advisory teams.
Variety
The work undertaken by government lawyers is unique in its variety. To give you a flavour of some live or recent topics our lawyers have been working on: financial services reform, same sex marriages, academies, pensions and welfare reform, Ebola, big rail projects, telecoms, reforms to legal aid, immigration, national security and so on. We are involved in the setting up of public inquiries and provide support to witnesses. Among the Parliamentary Bills which we've recently handled are: the Counter-Terrorism and Security Bill, the Serious Crime Bill, the Modern Slavery Bill, the Protection of Charities Bill, the Recall of MPs Bill, the Courts and Sentencing Bill, and the Control of Horses Bill.
Changes within the Government Legal Service
The GLS has historically been a federation of government legal teams, comprising some shared services (for example TSol has always done most of the government's litigation), and a number of free-standing advisory teams. We joined together on some things including recruitment, training, knowledge management and talent management.
However, over the past couple of years we have gone through a process of bringing more and more government legal teams into TSol, with the aim of creating a stronger, more unified legal function. TSol now comprises most of the main Whitehall legal teams. In the process TSol has grown to over 1800 people, including over 1300 lawyers.
Leading by excellence and efficiency
We aim to continue to build on the good practice which already exists around the GLS and to build a consistently excellent, efficient legal organisation. We are already making good progress with this. We have a well-established expert Litigation Group, which in recent years has taken on more and more of the government's litigation. More recently we've created a specialist Employment Group and specialist Commercial Law Group which have brought together specialist knowledge, expertise and capacity which was previously quite fragmented across the GLS, sometimes with lawyers working more or less in isolation or in very small groups. In our advisory teams, the new structure is enabling us to identify good practice and share it more effectively across team boundaries, and to eliminate duplication and overlap.
A more unified legal structure also means that we can take a more coherent, consistent approach to the way we recruit, train and develop our people, the way we manage and bring on talent, and help people to plan their careers and manage moves around the system.
For the full text please download Jonathan Jones, Treasury Solicitor and Head of the Government Legal Service, addresses the Whitehall and Industry Group (PDF, 202KB, 10 pages)
Published 30 January 2015