World news story
The result of the EU Referendum: Ambassador's Statement
A statement from Emma Hopkins OBE, the British Ambassador to Bulgaria.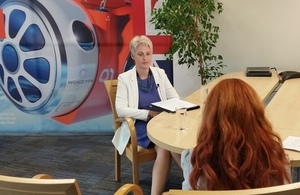 Over 33 million people from England, Scotland, Wales, and Northern Ireland voted in the referendum on the United Kingdom's membership in the European Union. As my Prime Minister said, the referendum was a giant democratic exercise, perhaps the biggest in our history. 70% of the electorate had their say, and now it is important that their decision to leave the European Union is respected.
Inevitably, there will be a period of uncertainty and adjustment following this result, but there will be no initial change to the way people can travel or the way that goods and services are moved and sold. The United Kingdom has been a part of the EU for nearly my entire life. It will take time for us to establish new relationships with Europe and the rest of the world.
The UK is a great country, with so many advantages: a parliamentary democracy which respects the will of the people; with strong traditions of innovation, creativity and resilience; an economy that is fundamentally strong; and an educated, fair and multicultural society. I am absolutely confident that we will move forwards and will find the best way to continue to thrive.
Next week, the Prime Minister will attend the European Council to explain the decision that the British people have taken to EU leaders and to Prime Minister Borissov.
I am confident that the close relationship that the UK enjoys with Bulgaria will continue, evolve and grow.