World news story
The Queen's Young Leaders Award 2017
Two exceptional Sierra Leoneans to receive The Queen's Young Leaders Award 2017 from Her Majesty The Queen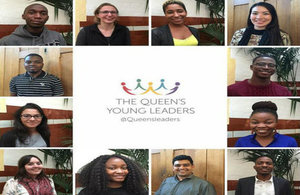 Two Sierra Leoneans, Kumba Musa (27) and Salton Massally (26), are among the 60 young people from around the Commonwealth who are being recognised as exceptional leaders in their community. Another Sierra Leonean, Aminata Bintu Wurie, was commended as a runner up.
The Queen's Young Leaders Award, which will be presented by Her Majesty The Queen in London in 2017, is part of The Queen's Young Leaders Programme that celebrates the achievements of young people who are taking the lead to transform the lives of others and make a lasting difference in their communities.
This year's Award winners are leading projects tackling global issues in education, climate change, gender equality, mental health and disabilities equality.
Kumba Musa has been recognised for her work to encourage more women to seek out careers in the sciences and mathematics. As an engineer, Kumba became disheartened at the lack of other females working in her field so in 2015 she founded Science, Technology, Engineering and Mathematics Women Sierra Leone (STEM Women). The organisation motivates girls to pursue STEM careers and improve STEM education in Sierra Leone.
Salton Massally is recognised for his work to help address some of the socio-economic challenges in Sierra Leone. Salton is the creator of Careers.sl, a job search website that addresses unemployment in Sierra Leone. He also began the start-up company iDT Labs, which uses technology to develop scalable solutions to socio-economic challenges in the country. Salton and his team helped to create a payment system for Sierra Leone's 27,000 Ebola Response workers during the 2014 Ebola crisis.
The Queen's Young Leaders Programme was established in 2014 by The Queen Elizabeth Diamond Jubilee Trust in partnership with Comic Relief and the Royal Commonwealth Society in recognition of The Queen's lifetime of service to the Commonwealth. Over the next three years the Programme will support thousands of young people to achieve their goals.
Dr Astrid Bonfield CBE, Chief Executive of The Queen Elizabeth Diamond Jubilee Trust said: ''We are delighted that these incredible young people have been selected as Queen's Young Leaders, and wish our warmest congratulations to each and every one of them. The Queen's Young Leaders Award is designed to inspire and nurture the talent of exceptional young people from all over the Commonwealth, so that they can create and lead others towards securing positive changes in communities around the world''.
On winning the Award, Salton said: '' I am thrilled to have been selected as a Queen's Young Leader and believe the mentorship and guidance provided by the programme would help me understand how to manage long-lasting community initiatives''.
To see a full list of Award winners and runners up, and read more about their stories, please visit www.queensyoungleaders.com.
Published 6 December 2016