World news story
The Queen's Birthday Party 2019 in Nur-Sultan, Kazakhstan
On 6 June 2019 the British Embassy in Kazakhstan held a reception in Nur-Sultan to celebrate HM The Queen's Birthday.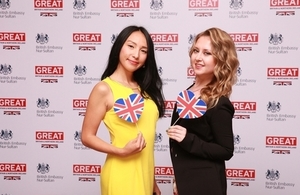 The Queen Elizabeth II turned 93 on 21 April, but her official birthday is celebrated on the second Saturday in June each year, which is commemorated with the Trooping the Colour parade. King George II started this tradition more than 250 years ago in 1748. He decided that the weather in November was not pleasant enough for a public celebration during his November birthday and combined the celebrations with an annual military parade in the summer.
The Queen's Birthday is the UK's National Day, and for British embassies all over the world, it is a good opportunity to celebrate this day with partners and friends. The event in Nur-Sultan also celebrated the close, strong relations between the UK and Kazakhstan.
The main theme of the event was 'Discovering Britain'. Guests had the opportunity to discover the distinct history and cultures of England, Scotland, Northern Ireland and Wales, with imagery of dynamic cities, amazing nature, beautiful historic towns, stunning coastline and samples of the unique culinary fare of the four nations.
Over 500 guests joined the celebration, including members of government, civil society institutions, business, journalists, Kazakh alumni of British universities, the diplomatic community and the British community living in Kazakhstan.
The British Embassy Nur-Sultan would like to thank our partners and sponsors, Shell Kazakhstan Development BV, Diageo, Aniri Group, JCB, London Stock Exchange for their generous support. Their sponsorship helped us to deliver a vivid and memorable event.
Published 10 June 2019
Last updated 11 June 2019
+ show all updates
Just changed the photo
Added translation