World news story
The Queen's Baton Relay in Sri Lanka
Her Majesty's message journeys around the Commonwealth.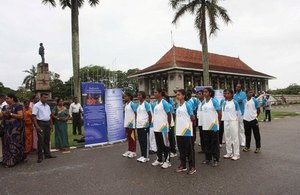 The British High Commission in Colombo celebrated the arrival of the Queen's Baton Relay in Sri Lanka on Saturday, 19 October, 2013, ahead of the 2014 Glasgow Commonwealth Games. The celebration began with sixteen children from the British Council's "Connecting Classrooms" project – representing the sixteen Commonwealth values – and the Baton Relay team from Glasgow running around Independence Square in the heart of Colombo.
This was followed by a press conference at the British High Commissioner's residence, Westminster House, in collaboration with the National Olympic Committee, the Ministry of Sports and the Ministry of Postal Services, where the Postmaster General launched a first day cover to mark the event. A reception was held after the press conference at which Shenuka Corea, the overall winner of the Commonwealth Essay Competition in 2012, signed the Baton Book, which will travel to all the countries participating in the Queen's Baton Relay.
Among those present at the event were Minister for Sports, Hon. Mahindananda Aluthgamage, Minister for Postal Services, Hon. Jeevan Kumaratunga and Deputy Minister for Postal Services, Hon. Sanath Jayasuriya.
The Queen's Baton Relay is the Commonwealth Games' equivalent of the Olympic torch. It heralds the forthcoming Games and contains a handwritten message from Her Majesty The Queen, which is officially read aloud by Her Majesty or Her representative at the opening ceremony of the Commonwealth Games.
Speaking at the event, British High Commissioner John Rankin said:
"The Queen's Baton Relay unites the two billion citizens of the Commonwealth in a celebration of sport, diversity and peace. Every time the Baton is passed, it reinforces the friendship that remains steadfast among Commonwealth nations. We are particularly delighted to warmly welcome the Baton to Sri Lanka, as it was here, in Colombo, that the final decision to host the Games in Glasgow was made, at the Commonwealth Games Federation General Assembly in November 2007. We wish the Queen's Baton Relay team all the very best as they travel through the diverse region that is the Commonwealth, carrying this message of diplomacy through sport and unity through difference." The Queen's Baton Relay for the 2014 Glasgow Commonwealth Games was launched on 9 October, 2013 at Buckingham Palace. The first baton bearer was Alan Wells, the Scottish sprinter who won gold in the men's 100m at the 1980 Moscow Olympic Games. Over the 288 days of the relay, the Baton will visit all 70 competing nations and territories, journeying more than 190,000km through Commonwealth territories in Asia, Oceania, Africa, North and South America and the Caribbean. The Baton's journey will end at the opening ceremony of the Games on 23 July, 2014.
The Queen's Baton Relay will travel around Colombo and Kandy from 19-21 October. For more information, follow the BBC blog on the Queen's Baton Relay
For More photos visit our flick
Published 23 October 2013