World news story
The Queen's 93rd birthday celebrated in Tashkent
The British Ambassador to Uzbekistan, HE Mr Chris Allan welcomed around 400 guests to mark the 93rd birthday of Her Majesty Queen Elizabeth II.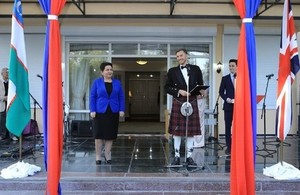 The guests of honour in attendance were Deputy Prime Minister of Uzbekistan, Mrs Tanzilya Narbayeva and Sir Nicholas Kay, NATO Senior Civilian Representative in Afghanistan .
The British Ambassador also hosted senior Uzbek figures from business, government and sport, the Diplomatic Corps, and other key members of the local community. They were entertained by the Tashkent International Community Choir, Arun Ghosh – a jazz artist visiting from the UK, and the band Krilya Origami.
Ambassador Allan said:
It is a great pleasure and honour for me to welcome you all to this year's Queen's Birthday celebration, to mark the 93rd Birthday of Her Majesty the Queen.
The relationship between our countries is getting stronger all the time.
We admire the determination of President Mirziyoyev to open up the country and to liberalise its economy and society. And we are pleased to support these efforts, through over two million pounds of bilateral programmes, providing advice and support to the reform process. The BBC is helping build the capacity of the Uzbek media; Westminster Foundation for Democracy is working with Uzbekistan's parliament; and British advisers have been working with the Ministries of Justice and Trade and Investment.
And there is a lot more, of course, that I could talk about in the areas of defence, trade and investment and education.
I am absolutely sure that this country, with its talented and hard-working people, will continue to flourish in the years to come.
Published 30 April 2019