News story
The Queen visits Woolwich Barracks
Her Majesty The Queen visited the King's Troop Royal Horse Artillery at their new South East London home on Friday, 31 May.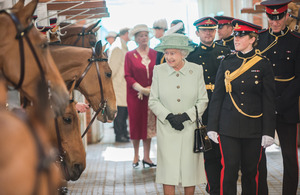 The royal visit came a year after the unit moved to Woolwich from St John's Wood. Their new home, King George VI Lines in Woolwich, is a purpose-built equestrian facility for the King's Troop's 125 Irish Draught horses and 169 soldiers.
A mounted guard of honour and buglers, resplendent in ceremonial uniform, heralded Her Majesty's arrival at the barracks. She was greeted by the Troop's Commanding Officer, Major Mark Edward, and presented with a posy by his daughter, 6-year-old Alice Edward.
Her Majesty met families of serving personnel from the King's Troop Royal Horse Artillery (King's Troop RHA) and 2nd Battalion The Princess of Wales's Royal Regiment, who are also based in Woolwich, and she presented Operational Service Medals to the King's Troop's regimental quartermaster, Warrant Officer Class 2 Jeremy Faulkner from Minehead in Somerset, and to Lance Bombardier Danielle Parker from Swadlincote, Derbyshire.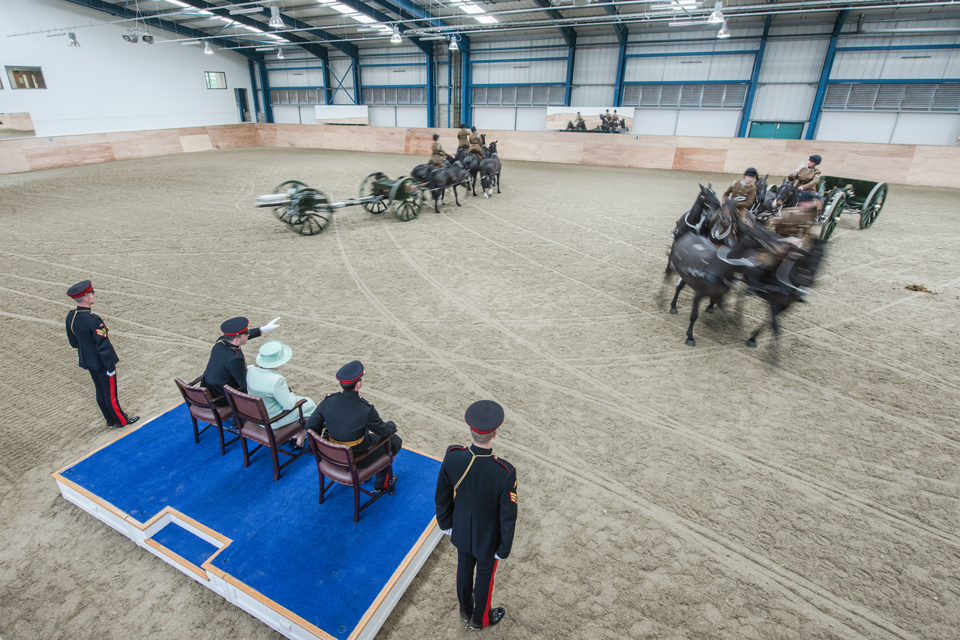 Both soldiers have recently returned from front line duties in Afghanistan where they worked in a liaison role with the Americans assisting in the handover of security responsibilities to Afghan forces prior to the withdrawal of British troops.
The King's Troop RHA is the Army's smallest military unit. Primarily a mounted ceremonial regiment, best known for riding their First World War guns through London to fire royal salutes on royal anniversaries and state occasions, its soldiers have a dual role, and in recent years have deployed to Afghanistan and Iraq, and provided security for the London 2012 Olympic Games.
Lance Bombardier Parker said:
It was such an honour to receive my Afghan medal from the Queen. Not many people are that lucky. I feel so proud.
Captain Owen Beynon Brown, a section commander in the Troop, said:
It is such an honour to have Her Majesty visit us today and see our new home here in Woolwich. She is a keen equestrian and takes a real interest in the Troop, which was, of course, named by her father, King George VI.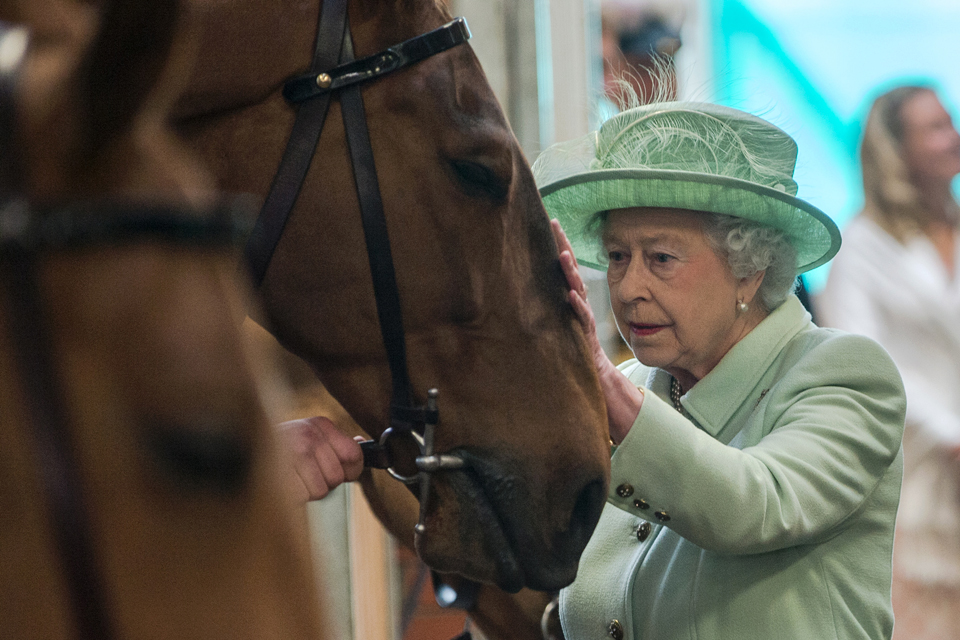 The Queen saw the Troop's biggest horses, the chargers, and then a mini-demonstration of the Troop's famous Musical Drive, when 2 of the gun teams performed a daring display of finely choreographed horsemanship in their new purpose-built riding school. Her Majesty was also reintroduced to Harlequin, a 15.2-hands-high horse that Her Majesty gifted to the Troop some years ago.
After watching farrier Bombadier Mark French shoeing Junior, a horse from E Squadron, in the forge, Her Majesty went to the on-site veterinary clinic to view horses undergoing treatment by the Troop's veterinary officer, Captain Nicola Houseby-Skeggs.
After the tour of the barracks, Her Majesty joined members of the Army's Woolwich Station and the King's Troop RHA for a private lunch at the Royal Artillery Barracks' Sergeants' Mess, where she was presented with a memento of her visit: an engraved shell case from one of the shells fired by the King's Troop RHA during Her Majesty's Diamond Jubilee celebrations.
Coming events
On Saturday, 1 June, the King's Troop RHA took part in the Major General's Review on Horse Guards, and today, 3 June, are firing a royal salute in Green Park to mark the 60th anniversary of the Queen's coronation. This coming Saturday, 8 June, the Troop will participate in the Colonel's Review on Horse Guards and next Monday, 10 June, they will fire a royal salute for the 92nd birthday of the Duke of Edinburgh. They will also fire a royal salute in Green Park on 15 June for the Queen's official birthday at the Trooping of the Colour.
Published 3 June 2013