The Queen & Foreign Secretary "shocked" by news of earthquake in New Zealand
Foreign Secretary William Hague said the UK will send a search and rescue team to New Zealand to assist in any way possible and to relieve teams already on the ground.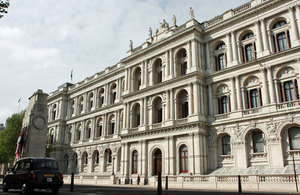 The Queen sent the following message to New Zealand Prime Minister John Key:
"I have been utterly shocked by the news of another earthquake in Christchurch. Please convey my deep sympathy to the families and friends of those who have been killed; my thoughts are with all those who have been affected by this dreadful event. My thoughts are also with the emergency services and everyone who is assisting in the rescue efforts."
The Foreign Secretary said:
"I am deeply sorry to hear of the destruction caused by the earthquake that struck Christchurch earlier today.
I have spoken today to Foreign Secretary Murray McCully about the damage caused by the earthquake and to pass on my condolences. Defence Secretary Liam Fox has been in contact with his opposite number, Defence Minister Wayne Mapp.
In response to requests from these Ministers, we are sending a search and rescue team to New Zealand, leaving before dawn on Wednesday and due to arrive in Christchurch late on Thursday evening New Zealand time. It is a long way from the UK to New Zealand and so our team will take a while to get there, but the New Zealand Government confirm that assistance is very much required.
Preparations for our response are underway and the Heavy Search and Rescue Team are being mobilised. This team consists of around 62 people and over 9 tonnes of equipment. The team will arrive on Thursday ready to assist in any way possible and will provide relief to teams already on the ground from New Zealand, Australia and Japan.
Our thoughts remain with the people of New Zealand, and the friends and families of all those who have been affected by the earthquake. Our High Commissioner is on the ground in Christchurch helping with the ongoing consular efforts, and providing assistance to any British Nationals caught up in the earthquake."
Published 22 February 2011