World news story
The Queen Awards Honorary Knighthood to Michael Bloomberg
From:

Part of:

Published:

6 October 2014
This was published under the 2010 to 2015 Conservative and Liberal Democrat coalition government
Award recognises Mr Bloomberg's entrepreneurial and philanthropic work, and the economic & cultural links he's built between the UK and US.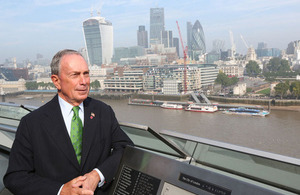 Today, Michael R. Bloomberg was made an Honorary Knight of the Most Excellent Order of the British Empire (KBE) by Her Majesty Queen Elizabeth II. The honorary knighthood was awarded in recognition of Mr Bloomberg's prodigious entrepreneurial and philanthropic endeavours, and the many ways in which they have benefited the United Kingdom and the UK-US special relationship.
Mr Bloomberg is the founder of leading global business and financial information firm, Bloomberg L.P., was the 108th Mayor of the City of New York, and is a great supporter of the arts and education in the UK. By making London the European headquarters of Bloomberg L.P. since 1987 and the centre of his European philanthropic activity, he's created untold thousands of jobs and committed more than £42.4 million in philanthropic support to the UK. His close partnership with London Mayor Boris Johnson is illustrative of the strong relationship between the US and UK.
Shortly before the end of Mr Bloomberg's tenure as Mayor of New York, he joined Mayor Boris Johnson to announce a renewed tourism partnership between New York and London to boost travel between the two cities. Originally formed in 2009, the partnership represents a commitment by both cities to their respective tourism industries and acknowledgement of the enormous economic impact of the leisure and hospitality sectors. Under the year-long agreement, London and New York exchange outdoor media space and share best marketing and tourism practices. In 2012, New York City welcomed 1,033,000 visitors from the UK while Americans made almost 1.8 million visits to London in the same period.
After announcing the honorary knighthood on Twitter, British Ambassador to the United States Sir Peter Westmacott, praised Mr Bloomberg's exceptional contribution to the UK through his public service:
As Mayor of New York, as a businessman, and as a philanthropist, Mike Bloomberg has played a key role in forging transatlantic diplomatic, economic, and cultural ties," Ambassador Westmacott said. "He has made a significant contribution to British business life through his firm, Bloomberg L.P., and the impact of his considerable philanthropic endeavours in the arts and education is felt by Britons every day.
Upon accepting the title, Mr Bloomberg said:
I am deeply honored to receive this recognition, which is especially meaningful to me because of my close personal, business, and philanthropic ties to London and Britain, which stretch back four decades. Over those years it has been a great privilege to work with British leaders on a wide variety of issues, and to invest - commercially, culturally, and civically - in the future of Britain, a place I have long considered my second home.
The UK honours system recognises exceptional achievement and service to the nation, and includes non-British nationals who receive 'Honorary' awards for their important contribution to British interests. All British honours are awarded on merit, and honorary awards are conferred by HM The Queen on the advice of the Foreign and Commonwealth Secretary. The Most Excellent Order of the British Empire was founded in 1917. Mr Bloomberg may forthwith put "KBE" after his name if he wishes.
Document information
Published: 6 October 2014