The Prince of Wales visits Washington this week
His Royal Highness, The Prince of Wales will be exploring the themes of environmental sustainability, the shared sacrifice of UK and US armed forces and education on his three day visit to the nation's capital this week.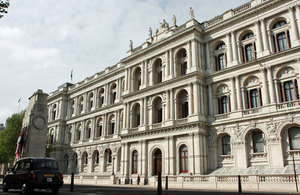 This visit, which starts today and finishes on Thursday, will build on these three themes which are of great importance to the UK and US Governments.
The schedule of the visit is outlined below:
Tuesday 3rd May - The Prince of Wales will attend a Marshall Scholar alumni reception at the U.S. Supreme Court. He will then visit Common Good City Farm, an urban farm and education centre in DC that grows food for low-income residents. That evening, the British Forces Foundation and the United Service Organizations will hold a joint event in the presence of His Royal Highness to raise awareness and encourage ongoing engagement and support of the military community.
Wednesday 4th May - His Royal Highness, a long-time advocate of local, organic, and sustainable food production, will deliver the keynote address at "The Future of Food" conference hosted by Washington Post Live at Georgetown University. Later that day, he will meet President Obama at the White House, where they are expected to discuss include energy, the environment, and sustainability; the UK and US military partnership; and a look ahead to the President's state visit to the UK in late May. In the evening, His Royal Highness will attend a private dinner at Senator Kerry's residence to discuss the state of the climate and clean energy debate in the US and also an afternoon reception for British Embassy staff.
Thursday 5th May - Before his departure the Prince of Wales will conduct an investiture ceremony for three American citizens recently honoured by Her Majesty The Queen before returning to the UK later that morning.
Published 3 May 2011