World news story
The OECD shares best practices on open government with Guatemala
Representatives from the Organisation for Economic Co-Operation and Development (OECD) visited Guatemala to share their knowledge and international best practices on open government with government authorities and civil society organisations.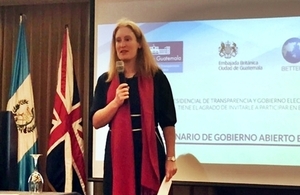 A delegation led by David Goessmann, Barbara Ubaldi and Alessandro Bellantoni from the OECD delivered a three day training course to central government officials, primarily from the Presidential Commission for Transparency and Electronic Government (COPRET). Members of civil society, the private sector and journalists were also invited.
The aim of the seminar was to share the principles of the OECD, and international best practices on the development and enforcement of open government policies across the public sector. The OECD seeks to develop the capacities of the Guatemalan government officials and civil society representatives, and for them to work together towards the reform of a more efficient and transparent public administration.
The visit is being sponsored by the Global Prosperity Fund of the British Foreign and Commonwealth Office, and is consistent with the United Kingdom's main priority areas of work in Guatemala. The United Kingdom seeks to strengthen the government's leadership and coordination capacities and to help realise the benefits of the Open Government Partnership (OGP) initiative. The OGP was launched in September 2011 by eight founding governments; Brazil, Indonesia, Mexico, Norway, Philippines, South Africa, the United States and the United Kingdom.
The OGP demonstrates the power of a coordinated approach with each participating government, including Guatemala, having endorsed a declaration which lays out a vision of good governance rooted in openness. Each government has also committed to develop and implement a National OGP Action Plan in consultation with civil society. These plans must contain strong commitments to implement reforms focused on enhancing transparency, the fight against corruption, and the strengthening of communication between governments and its citizens.
The attendees discussed the current status of open government initiatives in Latin America, and the importance of open data to improve public services, promote accountability and boost economic growth. The seminar also included a working session to start laying the grounds for a Guatemalan Action Plan on open government.
To mark the inauguration of the seminar, Sarah Dickson, British Ambassador to Guatemala, said:
"Transparency is an idea whose time has come. People around the world are demanding much greater openness, democracy and accountability from their governments. Citizens are demanding that the state should be their servant, not their master, and that information that governments hold should be open for everyone to see. This workshop will drive that agenda forward, and the United Kingdom is willing to lead from the front".
Published 19 January 2015