The military hospital dedicated to dogs
As soldiers aren't the only ones who can be injured on operations, the UK has its very own military hospital dedicated to nursing canine casualties back to health.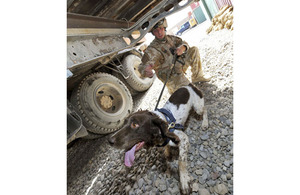 The Defence Animal Centre in Leicestershire has five vets who treat dogs who have been injured whilst on operations, whether they are suffering from blast injuries or have been shot.
Dogs play an extremely important role alongside British forces, as they are able to sniff out roadside bombs and hidden ammunition stashes, but this also means that they are at risk of being hurt by Taliban fighters or IEDs.
Dogs injured in Afghanistan are flown to Camp Bastion, just like human soldiers.
Captain Tom Roffe-Silvester of the Royal Army Veterinary Corps said:
We try to get the dogs a space on a helicopter with other casualties. Humans take priority but the dogs are rushed back as soon as they possibly can be and are taken to our small vet unit in Camp Bastion.
Two British vets in Camp Bastion can carry out emergency surgery, stabilising badly injured or sick dogs or treating minor limb injuries, but if longer-term treatment is needed they are flown to a veterinary hospital in Germany or to the Defence Animal Centre.
Last month the Defence Animal Centre treated 189 animals who had been injured in Afghanistan and in the UK.
The centre has eight heated kennels, plus 16 others for dogs with an infectious disease, as well as a hydrotherapy pool for pain relief.
Published 4 March 2011