Press release
The "Laughing Rembrandt" at risk of leaving the UK
Last chance to keep the captivating 17th Century masterpiece in the UK.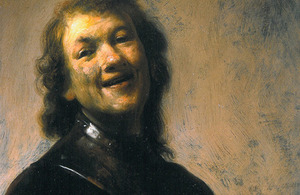 A small but captivating painting by Rembrandt has had a temporary export bar placed on it to provide a last chance to raise the £16,500,000 needed to keep it in the UK.
Culture Minister Ed Vaizey took the decision to defer granting an export licence for the painting following a recommendation by the Reviewing Committee on the Export of Works of Art and Objects of Cultural Interest (RCEWA), administered by Arts Council England, on the grounds that it was it was of outstanding aesthetic importance and of outstanding significance for the study of Dutch painting and in particular the work of Rembrandt in the 1620s.
Rembrandt Laughing represents a genre of painting known as a tronie, a head study intended to depict a particular emotional state rather than a specific person, although it's thought this may well be a self-portrait. The painting is a strikingly beautiful example of Rembrandt's early work, and the sophisticated play of light and shadow, even on a small scale, conveys Rembrandt's characteristically daring and assured brushwork.
It is one of only a handful of paintings the artist made on copper, and while Rembrandt's paintings are well represented in UK public collections, the vast majority of these works post-date 1631 and demonstrate a mature and confident master at work. This is a key work from the only period of Rembrandt's career not already represented in a public collection in this country.
Culture Minister Ed Vaizey said:
The UK's galleries may already have an impressive array of Rembrandts, but nothing from this period of this great artist's career. I hope that my deferral of the export licence will allow time for a buyer to come forward and secure this exquisite painting for the nation, where it can be studied and enjoyed by all.
The decision on the export licence application for the painting will be deferred for a period ending on 15 October 2013 inclusive. This period may be extended until 15 April 2014 inclusive if a serious intention to raise funds to purchase the painting is made at the recommended price of £16,500,000 (plus VAT which can be reclaimed by most institutions).
Further information
Published 16 July 2013