News story
The Jubilee Dialogues
The Foreign Office is committed to leading dialogue and debate on the key issues shaping the world.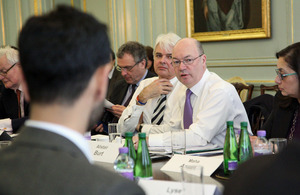 Today we launched 'The Jubilee Dialogues' - a flagship series of debates bringing together leading thinkers to discuss some of the major drivers behind transformation in societies across the world.
We want to share the insights of our global network with experts both within and outside Government, and hear other perspectives to strengthen our mutual understanding of international issues. The first dialogue, chaired by Richard Burge, Chief Executive of Wilton Park and led by FCO Minister, Alistair Burt MP, examined our perspectives of change in the Middle East and North Africa, two years since the Arab Spring began, looking at an approach to marrying values and interests in its foreign policy in the region and exploring innovative ideas on how the UK can best support long-term positive change in the Middle East and North Africa. The participants included business leaders, journalists, academics and Parliamentarians, alongside our Ministers, researchers and senior officials.
Further Information
Read about the UK is working for peace and long-term stability in the Middle East and North Africa
Published 25 March 2013