World news story
The importance of STEM education
Speech by Dr Bryony Mathew, Deputy Ambassador, at the launch of the 2nd Cambodian Interschool STEM Competition at Kids City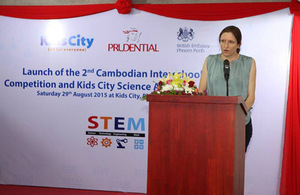 It's a real pleasure to be here today to represent the British Embassy in Phnom Penh.
The UK and Cambodia have a strong bilateral relationship covering political, commercial, economic, consular and security issues. And this year, for the first time, the UK and Cambodia are collaborating on STEM education.
We are working closely with the Ministry of Education, Youth and Sport to identify ways to promote science, technology, engineering and maths education in Cambodia, as the Ministry has identified STEM education as one of its top areas of priority.
It's an exciting time for STEM in Cambodia. There are huge opportunities for students and young people to work in STEM fields.
Current figures show that fewer than 10% of Cambodian University students are studying STEM subjects, while almost 50% are studying finance, management or accounting.
But Cambodia needs more STEM professionals. More structural engineers, more computer programmers, more surgeons, more technicians, more toxicologists.
The British Embassy is running a series of activities which aim to do two things: Firstly, we're looking at ways to increase interest in STEM in Cambodia. We're raising awareness of the possibilities that a career in STEM can offer and trying to increase the number of Cambodian students who will consider studying STEM subjects.
Secondly, we're looking at ways to develop capacity, to increase the number of students who are capable of studying STEM subjects in Higher Education. This requires supporting teachers and building their ability to teach and inspire students.
Together with IDP Education, the Embassy is setting up a network of STEM Ambassadors in Cambodia to act as role models and mentors for young people interested in studying STEM subjects.
And we are working with the Nuppun Institute to analyse the current supply and demand of the Cambodian labour market in STEM fields and to identify the gaps that currently exist.
Here at Kids City, we are supporting a series of activity days where teachers bring their students to the science centre and give them hands on experience of science activities. Science teachers have a unique opportunity to help young people recognise how the science they learn at school relates to their everyday lives, to show them why science matters.
As the world is becoming increasingly complex and high-tech, STEM subjects are becoming ever more critical for Cambodia's future success. More than ever before, success is determined not just by what people know, but also by what they can do with what they know.
Young people need to be equipped with the skills that enable them to solve difficult problems, to gather and evaluate evidence, to make sense of information and come up with logical, careful analyses to determine what is the best course of action.
It is exactly these sorts of skills that students can learn if they choose to study one of the STEM subjects. Whether or not they go on to pursue a career in STEM, they will have benefited from gaining key life skills which will help them look at issues from original viewpoints and come up with innovative solutions.
Although I'm a diplomat now, I'm a scientist by training. I've been lucky to have been taught science from an early age and I strongly believe that instilling an interest in science when children are young can spark a lasting desire to pursue a career in a scientific field.
Teachers inspire children. They are in a unique position to give them the confidence to believe that they can become innovators, researchers, educators and leaders who can solve the most challenging situations facing Cambodia both now and in the future.
But without the necessary equipment to conduct experiments with students and to really demonstrate scientific concepts it is difficult for science teachers to teach. This is why the Kids City Science centre is so important.
Together with Kids City, we want to inspire Cambodian children to learn about science and open their eyes to the world of opportunities that can come from a science education.
Thank you again for inviting me to participate today, and I wish all participants the best of luck in the second Cambodian Interschool STEM competition.
Document information
Published: 31 August 2015