World news story
The illegal wildlife trade: what can be done to tackle the £6 billion industry?
How can governments, businesses, NGOs and the public work together to end wildlife crime was the topic of a panel discussion at Eden hall on the 14th September.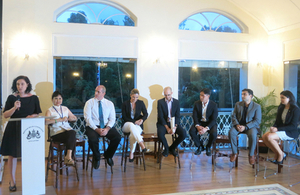 The Illegal Wildlife Trade (IWT) is an urgent global issue. It is a serious criminal industry worth more than £6 billion a year. It threatens some of the world's most iconic species with extinction and damages economic growth and sustainable development. Fuelled by corruption, it undermines good governance and the rule of law.
Experts estimate that a rhino is slaughtered once every 9-11 hours for its horn, while an elephant every 14 minutes for its tusks and native to SE Asia, the pangolin is one of the most illegally trafficked animal in the world. The panel of IWT experts from a host of organisations shared how a co-ordinated approach is required to tackle supply and demand while stopping the trafficking of animals.
Speaking at the event, Scott Wightman, the British High Commissioner to Singapore, said:
Wildlife crimes are serious crimes and they have to be treated as such by nations committed to breaking international trafficking networks. The UK is committed to playing a leading role in tackling IWT and working with our international partners to bring an end to this scourge.
The event was a precursor to the UK's Anti-Corruption Week in Singapore, highlighting the scale and complexity of this global issue in the lead up to the IWT Conference in Hanoi in November. This will be the third in a series of high level conferences on the issue. The 2014 conference saw countries sign up to The London Declaration which contained 25 commitments to take action on enforcement and criminal justice, reducing demand for illegal wildlife products and supporting sustainable livelihoods.
The 2015 conference in Botswana saw a further 15 actions to complement those initiated in London and the Vietnam conference will maintain this political momentum and commitment. Much has been achieved in the last couple of years since the London Conference, and international consensus on the importance and urgency of tackling the issue is now evident; the first UN General Assembly Resolution on Illegal Wildlife Trafficking passed in July 2015.
The UK has already committed £13 million to support projects around the world to reduce demand, strengthen law enforcement, and develop sustainable livelihoods for communities affected by IWT, primarily through the Illegal Wildlife Trade Challenge Fund.
Find out more by searching #EndWildlifeCrime
Published 15 September 2016