News story
The Highway Code joins Twitter and Facebook
The Highway Code has joined Twitter and Facebook to share reminders about the rules for road users.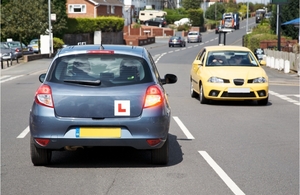 You can also follow The Highway Code by email, RSS or website widget.
Here are the different ways to follow:
Essential reading for everyone
The Highway Code applies to England, Scotland and Wales. It's essential reading for everyone.
The most vulnerable road users are pedestrians, particularly children, older or disabled people, cyclists, motorcyclists and horse riders.
It is important that all road users are aware of the code and are considerate towards each other. This applies to pedestrians as much as to drivers and riders.
Knowing and applying the rules contained in The Highway Code could significantly reduce road casualties.
Cutting the number of deaths and injuries that occur on our roads every day is a responsibility we all share.
Published 19 December 2011